Our storefront will be closed Monday 9/25 in observance of Yom Kippur.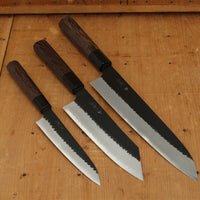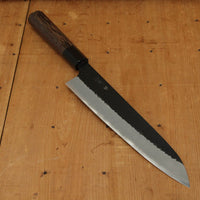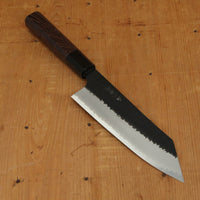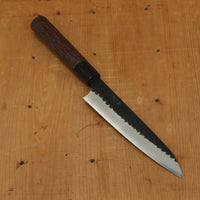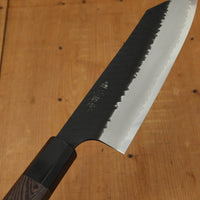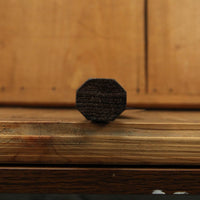 Nigara Hamono SG2 Kurouchi Tsuchime 3 Knife Set
Regular Price

$1,065.98

Sale Price

$1,065.98

Regular Price

Unit Price

/

per
Forged stainless clad SG2 powder metal with hammer marked 'tsuchime cladding and octagonal wenge handle. SG2 takes a very fine edge easily for a stainless steel of its hardness (63/64) and holds the edge nicely. 
Nigara Hamono of Hirosaki City in Aomori Prefecture is a 350 year old metalworking company with swordmaking roots. Blacksmith Go Yoshizawa has expanded Nigara's range to include kitchen knives. 
These are ground to cut very sharply and smoothly. Extra attention needs to be taken to avoid damaging the edge. Use on wooden cutting surfaces and hand wash and towel dry after use.
Included in this set:
Nigara Hamono 240mm Gyuto SG2 Kurouchi Tsuchime Wenge - for the bigger kitchen jobs like large, softer vegetables, cabbage and piles of herbs while doubling as a great slicer.
Nigara Hamono 180mm Bunka SG2 Kurouchi Tsuchime Wenge - great for single piece vegetables like onion, carrot, peppers and smaller sized boneless meats
Nigara Hamono 150mm Petty SG2 Kurouchi Tsuchime Wenge - small enough to do some handheld work but longer enough to process on a cutting board.
Dexter Plastic Guards

Brand: Nigara Hamono
Smith: Go Yoshizawa
Producing Area: Hirosaki-Aomori, Japan
Steel Type: Stainless Steel
Steel: Stainless Clad SG2 Powder Metal
Handle: Wenge
Hand Orientation: Ambidextrous
HRC: 63-64
About Bernal Cutlery
We are a full-service cutlery shop offering sharpening services, Japanese and Western culinary knives, vintage knives, outdoor, pocket and craft knives, cooking tools and accessories. We also offer knife skills and sharpening classes, and more.
We are proud to serve kitchen professionals, knife enthusiasts and home cooks alike. Located in the Mission District of San Francisco, California.