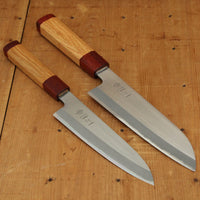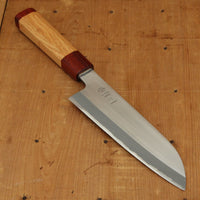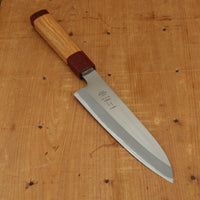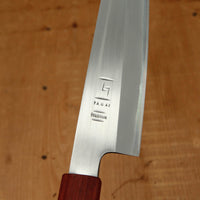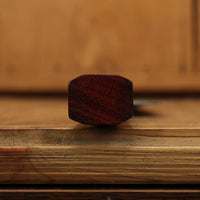 Tagai Sanjo Migaki 2 Knife Set
Regular Price

$562.65

Sale Price

$562.65

Regular Price

Unit Price

/

per
Tagai knives are a collaboration born in Sanjo Niigata featuring the smithing of several well respected Sanjo blacksmiths; Mutsumi Hinoura and Takashi Hosokawa (from Gihei).
These are forged in stainless clad shirogami 2 with a mIgaki matte polished finish, they have the classic Sanjo geometry with strong distal taper and a square leaning oak and bubinga octagonal handle, also made in Sanjo specifically for this series.
The shirogami in the core is expertly forged and heat treated, they have a fabulous blend of easy sharpening, fine edge formation and good edge life for shirogami 2 along with a much easier maintenance with their stainless cladding.
*This knife has a hard carbon steel core with a stainless steel cladding for added durability. The exposed carbon cutting edge will develop a patina with use, especially with acidic foods. Although the majority of the blade is corrosion resistant, special attention is needed to keep the exposed carbon core from rusting. Do not leave wet. Hand wash & dry, no dishwasher. Hardwood-end grain or softwood long grain cutting boards are preferred; avoid bamboo and plastic cutting boards. Rust can be removed with a light abrasive.
This set includes:
Tagai Sanjo 165mm Santoku Migaki Stainless Clad Shirogami 2 Oak and Bubinga Handle - general use knife great for single piece veggies like onions, carrots and peppers yet still long enough for smaller sized boneless meats.
Tagai Sanjo 150mm Petty Migaki Stainless Clad Shirogami 2 Oak and Bubinga Handle - utility knife that is above average in size for it's category. It's a great size for fruits and veggies and it tall enough to comfortably chop where other petty knives are too narrow for good knuckle clearance. It's taller blade makes it a bit awkward for handheld work but it's still possible. 
This set is ideal for two that like to cook together but don't want overly redundant knives.
Brand: 
Tagai
Smith: 
Mutsumi Hinoura
Producing Area: 
Sanjo
Steel Type: Stainless Clad
 Carbon Steel
Steel: Shirogami
 1
Handle: 
Oak and Bubinga
Hand Orientation: 
Ambidextrous
Sharpener: Takashi Hosokawa
HRC:
 63
About Bernal Cutlery
We are a full-service cutlery shop offering sharpening services, Japanese and Western culinary knives, vintage knives, outdoor, pocket and craft knives, cooking tools and accessories. We also offer knife skills and sharpening classes, and more.
We are proud to serve kitchen professionals, knife enthusiasts and home cooks alike. Located in the Mission District of San Francisco, California.