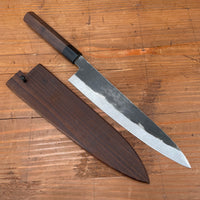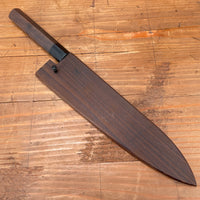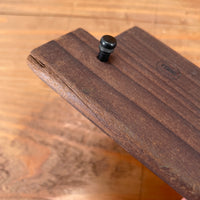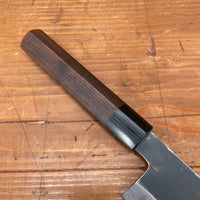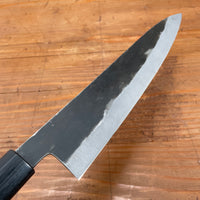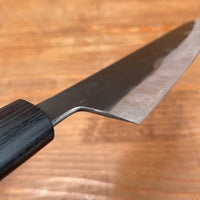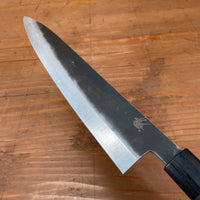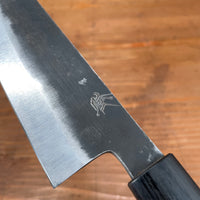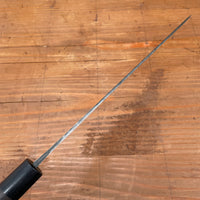 Trade In Mutsumi Hinoura 240mm Wa-Gyuto Aogami Super
Regular Price

$413.83

Sale Price

$413.83

Regular Price

Unit Price

/

per
 Trade in gyuto in good condition with saya but missing original packaing. This stainless clad aogami super blade has been thinned and freshly sharpened before posting and despite all is only down ~2mm in heel height. The handle and general aesthetics of the knife are in good condition, though the saya is a little beat up, but thats what they are for.
Aogami super, or super blue steel, is formulated for a long edge life. Where other steels become rounded as they dull, aogami super seemingly micro-chips, maintaining an aggressive edge even as the knife dulls. Highly recommended for busy professional cooks and equally great as a home knife. It should be mentioned that the core is not stainless and should be dried after use. It will develop a dark patina with normal use, but any orange rust should be removed with a light abrasive or sharpening.
Mutsumi Hinoura has been training and working with his father, master smith Tsukasa Hinoura, since 2001, in Sanjo. His knives are similar, with good distal tapers and wide kiriba style bevels, and really wonderful heat treatments. They both have a lot of experience with hunting and outdoor knives, and their kitchen knives seem to carry some of the same qualities of toughness.
Brand: Mutsumi Hinoura
Smith: Mutsumi Hinoura
Producing Area: Sanjo, Japan
Profile: Gyuto
Size: 240mm
Steel Type: Stainless Clad Carbon Steel
Steel: Aogami Super
Handle: Red Ebony
Total Length: 402mm
Edge Length: 250mm
Blade Height: 50mm
Thickness: 2.9mm at kanji
Weight: 202g
Hand Orientation: Ambidextrous
About Bernal Cutlery
We are a full-service cutlery shop offering sharpening services, Japanese and Western culinary knives, vintage knives, outdoor, pocket and craft knives, cooking tools and accessories. We also offer knife skills and sharpening classes, and more.
We are proud to serve kitchen professionals, knife enthusiasts and home cooks alike. Located in the Mission District of San Francisco, California.