Our storefront will be close Monday 9/25 for Yom Kippur.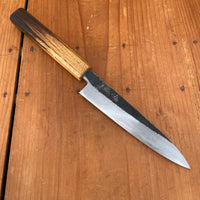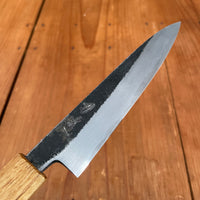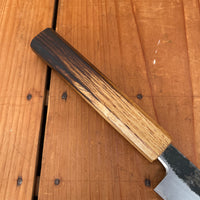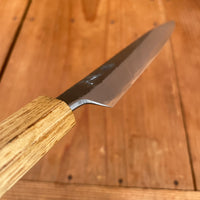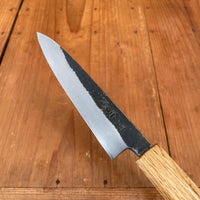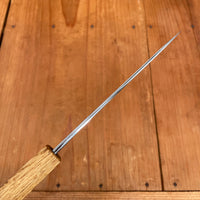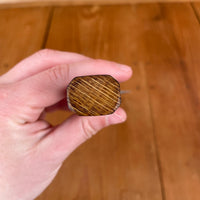 Trade In Hado Sumi 135mm Petty Shirogami 2 Kurouchi Finish Burnt Oak
Regular Price

$335.52

Sale Price

$335.52

Regular Price

Unit Price

/

per
Trade in petty in great condition with original packaging. The carbon steel knife showed minimal signs of use in some light oxidation that has been buffed away to restore some of the original aesthetic. This knife does not appear to have been sharpened by the previous owner but will come with a fresh BC edge.
The Hado 'Sumi' Shirogami series double bevel knives are forged at Tanaka Hamono, led by Yoshikazu Tanaka a top level 'Dentokougeshi' blacksmith in Sakai City, Osaka. Tanaka Hamono coaxes excellent edge retention and toughness from Shirogami #2 (AKA white steel) with a smooth easy sharpening feel. They are ground with flat even kireba and a polished spine and heel by Tadataka Maruyama, a very talented up and coming sharpener. These will be easy to follow up thinning and are a delight to maintain.
Shirogami, or white steel, which is a very fine grained carbon steel made from low contaminate iron. It's loved for its ease of sharpening and ability to take a very fine, razor sharp edge. It should be mentioned that extra care is required, as the knife is not stainless and should be dried immediately after use. It will develop a dark patina with use, but any orange rust should be removed with a light abrasive.
Brand:
 Hado
Smith:
Yoshikazu Tanaka
Producing Area:
Sakai, Japan
Profile:
Petty
Size:
135mm
Steel Type:
 Iron Clad Carbon Steel
Steel:
Shirogami (white) 2
Handle:
Burnt chestmut
Total Length:
261mm
Handle Length:
119mm
Handle to Tip Length: 
141mm
Blade Height:
28mm
Edge Length: 1
33mm
Thickness:
2.77mm at Kanji
Weight:
78g
Hand Orientation:
Ambidextrous
Sharpener: 
Tadataka Maruyama
About Bernal Cutlery
We are a full-service cutlery shop offering sharpening services, Japanese and Western culinary knives, vintage knives, outdoor, pocket and craft knives, cooking tools and accessories. We also offer knife skills and sharpening classes, and more.
We are proud to serve kitchen professionals, knife enthusiasts and home cooks alike. Located in the Mission District of San Francisco, California.