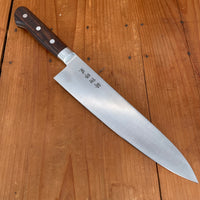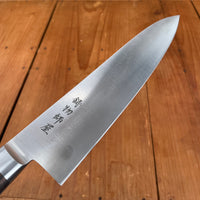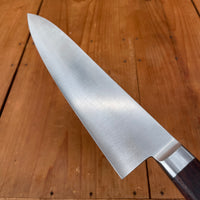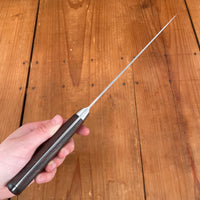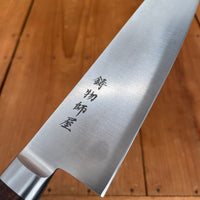 Trade In Hitohira Imojiya OKD 240mm Gyuto VG-1
Regular Price

$185.26

Sale Price

$185.26

Regular Price

Unit Price

/

per
Trade in gyuto in like new condition with original packaging. This mono stainless blade came back to us virturally unused. There are some very small surface scratches right behind the edge on the black half of the blade which is normally indicative of honing rod use but there is no signs of edge deformation or scratches. 
Made from mono steel VG1 stainless with rosewood handle. These knives have all the merits of a classic stainless mono steel but with better edge formation and easier sharpening. An excellent cutting feel thanks to the fine, convex hamaguri grinds.
Done at the workshop involved in the old Masakane production in Seki.
This steel can be somewhat prone to chipping if mistreated, but we think the return in ease of sharpening and cutting feel is worth it. These are a great take on the classic stainless western handled Japanese knife.

Brand: Hitohira ひとひら (一片)
Producing Area: Seki-Gifu, Japan
Profile: Gyuto
Size: 240mm
Steel Type: Mono Stainless Steel
Steel: VG-1
Handle: Rosewood Western
Total Length: 373mm
Edge Length: 243mm
Handle to Tip Length: 245mm
Blade Height: 50mm
Thickness: 2.2mm
Handle Length: 130mm
Weight: 220g
Hand Orientation: Right Bias
Saya / Guard: EDRO 240mm Gyuto / Dexter 10" Wide - Sold Separately

About Bernal Cutlery
We are a full-service cutlery shop offering sharpening services, Japanese and Western culinary knives, vintage knives, outdoor, pocket and craft knives, cooking tools and accessories. We also offer knife skills and sharpening classes, and more.
We are proud to serve kitchen professionals, knife enthusiasts and home cooks alike. Located in the Mission District of San Francisco, California.