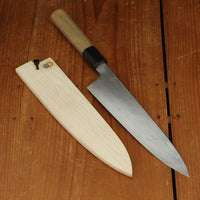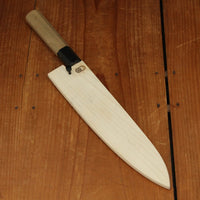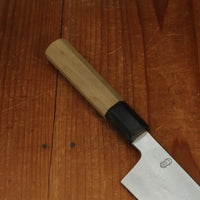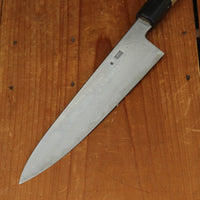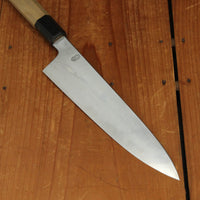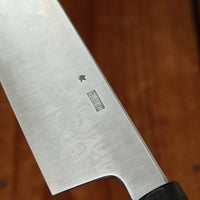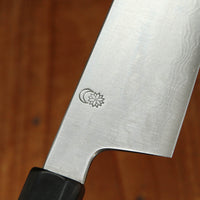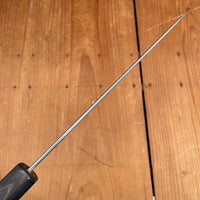 Trade In Sakai Kikumori Kikuzuki Uzu 210mm Gyuto Aogami 1 with Saya
Regular Price

$517.29

Sale Price

$517.29

Regular Price

Unit Price

/

per
Trade in gyuto in good condition with original packaging and saya. This iron clad aogami steel knife came in with some surface oxidation that has been polished to an even shine. This is a different finish from the acid etched suminagashi finish that comes on an unused example, but the layers are still visible and will develop more contrast as a new patina is applied through use. This knife was used well but not over sharpened and comes with a fresh BC edge.
Like an unused example of this knife, it cuts effortlessly but with authority due to the excellent grinding work. This knife will be a bit less finicky on the edge due to having been sharpened compared to a new one.
Kikuzuki series knives represent some of the best of Sakai's knife making. Made by craftspeople who are well respected for preserving demanding traditional techniques, they also contribute their own refinements and creativity to the craft.

Kikuzuki Uzu blacksmiths are from Tanaka Hamono. Tanaka-san's top level forging and heat treatments make for an unusual ease of sharpening and superb edge life and toughness.
Brand:
Sakai Kikumori
Smiths:
Tanaka Hamono 
Producing Area:
Sakai
Profile:
Gyuto
Size:
210mm
Steel Type:
Iron Clad Carbon
Steel:
Aogami 1
Handle:
Magnolia with horn ferrule
Total Length:
345mm
Edge Length:
196mm
Handle to Tip Length:
214mm
Blade Height:
44mm
Thickness:
2.5mm mid
Handle Length:
127mm
Weight:
152g
Hand Orientation:
Ambidextrous
Saya:
Included
HRC:
63-64
About Bernal Cutlery
We are a full-service cutlery shop offering sharpening services, Japanese and Western culinary knives, vintage knives, outdoor, pocket and craft knives, cooking tools and accessories. We also offer knife skills and sharpening classes, and more.
We are proud to serve kitchen professionals, knife enthusiasts and home cooks alike. Located in the Mission District of San Francisco, California.