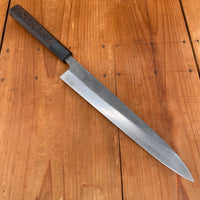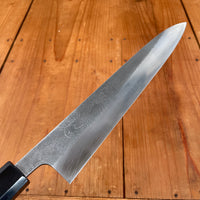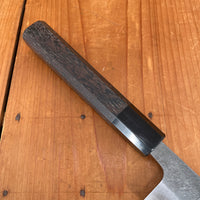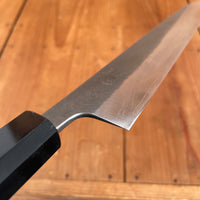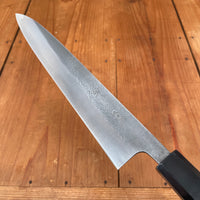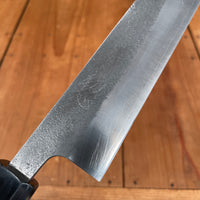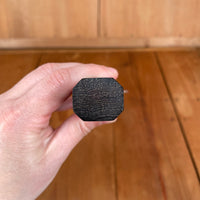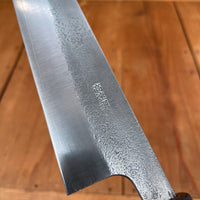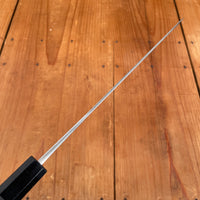 Trade In - Yoshikane 240mm Sujihiki SKD Nashiji
Regular Price

$528.34

Sale Price

$528.34

Regular Price

Unit Price

/

per
Trade in sujihiki in excellent condition with original packaging. This stainless clad semi-stainless knife shows little signs of use but does have some small surface scratches at the heel and towards the tip. These appear to be from handling rather than honing.  Comes with a fresh BC edge.
SKD steel is a nearly stainless carbon steel at approx 11-12% chromium content (13% and the chromium is able to bond with itself forming a stain resistant film) it is sometimes referred to as 'semi stainless' as it rusts slowly and has low reactivity with foods.
Hardened to 64 HRC, these knives hold a keen edge for a long time, owing to thier excellent heat treatment and despite this hardness they have a good degree of toughness and are very easy to sharpen. Being ground with a wide, kireba primary bevel, they also allow for easy thinning down the road, especially as Yoshikane kireba grinds are especially flat.
The core of this knife is 'semi-stainless' and has a certain degree of rust resistance, but as it is not completely stainless, it should be dried immediately after use. The core will develop a patina with use, but any orange rust should be removed with a light abrasive.
Yoshikane is headed by Kazuomi Yamamoto the fourth generation to operate this family run forging and grinding operation in Sanjo, Niigata which  has been making kitchen knives since 1919. They deserve their good reputation for excellent forging and heat treatments, which make for easy sharpening and great edge life for both single and double bevel knives. This is especially true about the thin grinds provided on their double bevel knives. For middleweight Japanese knives, they cut like a much thinner blade.
Brand:
Yoshikane Hamono
Smith: 
Kazuomi Yamamoto (Lead Blacksmith)
Producing Area:
Sanjo, Japan
Profile:
Sujihiki
Size:
240mm
Steel Type:
Stainless Clad Semi-Stainless
Steel:
SKD High Speed Steel
Handle:
Octagonal Wenge with Horn Ferrule
Total Length:
410mm
Handle Length:
157mm
Handle to Tip Length:
261mm
Blade Height:
40mm
Edge Length:
248mm
Thickness:
2.36mm midpoint
Weight:
181 grams
Hand Orientation:
Ambidextrous
Saya:
Bernal Cutlery 240mm Sujihiki/Yanagi Saya Magnetic Saya - sold separately
HRC:
64
About Bernal Cutlery
We are a full-service cutlery shop offering sharpening services, Japanese and Western culinary knives, vintage knives, outdoor, pocket and craft knives, cooking tools and accessories. We also offer knife skills and sharpening classes, and more.
We are proud to serve kitchen professionals, knife enthusiasts and home cooks alike. Located in the Mission District of San Francisco, California.