Last ordering day for Dec 25th arrival is Friday Dec 15th. Orders placed after this day may not arrive in time (per USPS). We are unable to offer expedited shipping.
Questions about Sharpening Services? Click here.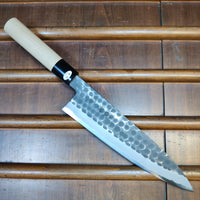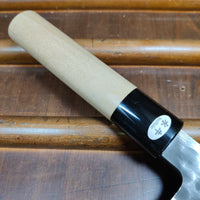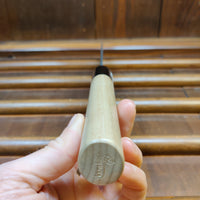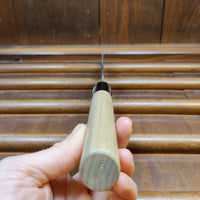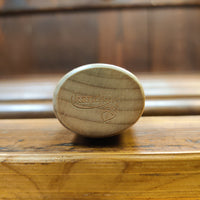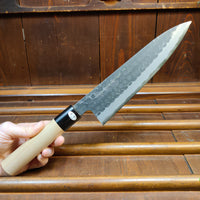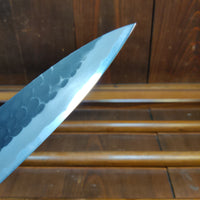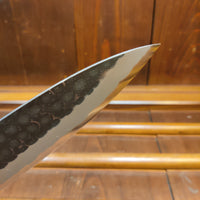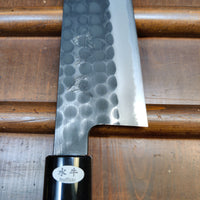 Hitohira Ajikataya 210mm Gyuto Iron Clad Shirogami 2 Tsuchime Ho Wood
Regular Price

$288.00

Sale Price

$288.00

Regular Price

Unit Price

/

per
210mm gyuto knife from the Ajikataya line by Mutsumi Hinoura. Layered steel construction, shirogami 2 cutting core with iron cladding. Rustic hammermark (Tsuchime) finish with a Magnolia (Ho) wood handle and black horn ferrule.
Shirogami, or white steel, which is a very fine grained carbon steel made from low contaminate iron. It's loved for its ease of sharpening and ability to take a very fine, razor sharp edge.
Mutsumi Hinoura has been training and working in Sanjo with his father, master smith Tsukasa Hinoura, since 2001. His knives are similar, with good distal tapers and wide kiriba style bevels, and really wonderful heat treatments. They both have a lot of experience with hunting and outdoor knives, and their kitchen knives seem to carry some of the same qualities of toughness.
Mutsumi's shirogami incorporates a very good edge life along with a good toughness for it's hardness, it is crisp and a bit hard feeling on stones but still yielding and easy to polish. It can work well at a very wide variety of finishes especially which if you are getting into sharpening more can reveal a lot about the personality of different stones. We use a Mutsumi shirogami 2 as part of our stone testing knives. 
This knife has a hard carbon steel core with iron cladding for added durability. The entire blade will develop a patina with use, especially with acidic foods. Special attention is needed to keep from rusting. Do not leave wet. Hand wash & dry, no dishwasher. This knife if susceptible to chipping with misuse. Hardwood-end grain or softwood long grain cutting boards are preferred; avoid bamboo and plastic cutting boards. Rust can be removed with a light abrasive.
Brand: Hitohira ひとひら (一片)
Smith: Mutsumi Hinoura 日野浦 睦
Producing Area: Sanjo-Niigata/ Japan
Profile: Gyuto
Size: 210mm
Steel Type: Carbon Steel
Steel: White (Shirogami) #2, Soft Iron Clad
Handle: Ho Wood & Buffalo Horn Ferrule Oval
Total Length: 356mm
Edge Length: 216mm
Handle to Tip Length: 230mm
Blade Height: 50mm
Thickness: 2.4mm
Handle Length: 125mm
Weight: 184g
Hand Orientation: Ambidextrous
About Bernal Cutlery
We are a full-service cutlery shop offering sharpening services, Japanese and Western culinary knives, vintage knives, outdoor, pocket and craft knives, cooking tools and accessories. We also offer knife skills and sharpening classes, and more.
We are proud to serve kitchen professionals, knife enthusiasts and home cooks alike. Located in the Mission District of San Francisco, California.