Last ordering day for Dec 25th arrival is Friday Dec 15th. Orders placed after this day may not arrive in time (per USPS). We are unable to offer expedited shipping.
Questions about Sharpening Services? Click here.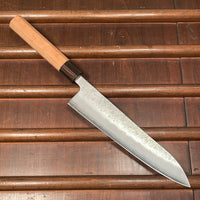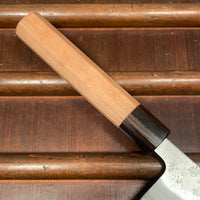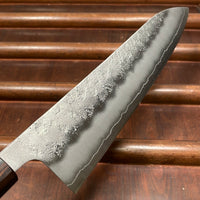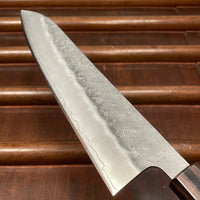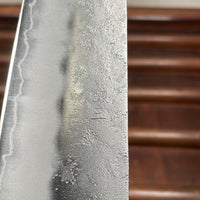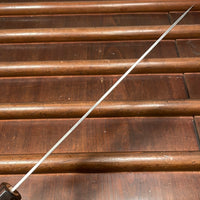 Hitohira Futana S3 210mm Gyuto Ginsanko Nashiji Cherry Wood
Regular Price

$170.00

Sale Price

$170.00

Regular Price

Unit Price

/

per
Soft stainless clad ginsanko stainless with nashiji (pear skin) finish with a wide beveled grind. This factory forged series is relatively simply ground to keep them very affordable, especially compared to the higher end ginsanko knives. This treatment of ginsanko can be sharpened at a variety of finishes depending to the users taste but it does great in the 4-6K finish range from our tests.
Ginsanko is a fine grained, high carbon content (1% + carbon), low chromium (13%) stainless steel with the cutting and sharpening feel of a carbon steel, but less maintenance with regard to reactivity. Although it won't rust, keep dry when not in use to preserve edge life.
Brand: Hitohira ひとひら (一片)
Profile: Gyuto
Size: 210mm
Steel Type: Stainless Steel
Steel: Yasuki Silver #3 (Ginsan), Soft Stainless Clad
Handle: Cherry Wood & Ebony Ferrule Octagonal
Total Length: 374mm
Edge Length: 214mm
Handle to Tip Length: 230mm
Blade Height: 46mm
Thickness: 2.3mm
Handle Length: 146mm
Weight: 146g
Hand Orientation: Ambidextrous
About Bernal Cutlery
We are a full-service cutlery shop offering sharpening services, Japanese and Western culinary knives, vintage knives, outdoor, pocket and craft knives, cooking tools and accessories. We also offer knife skills and sharpening classes, and more.
We are proud to serve kitchen professionals, knife enthusiasts and home cooks alike. Located in the Mission District of San Francisco, California.