Last ordering day for Dec 25th arrival is Friday Dec 15th. Orders placed after this day may not arrive in time (per USPS). We are unable to offer expedited shipping.
Questions about Sharpening Services? Click here.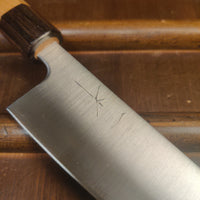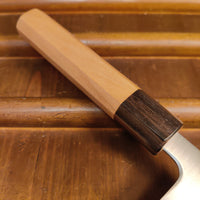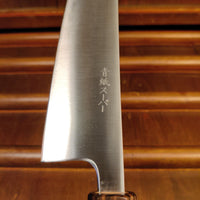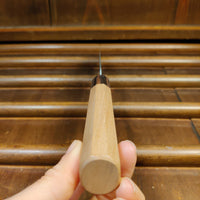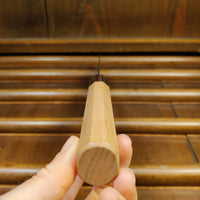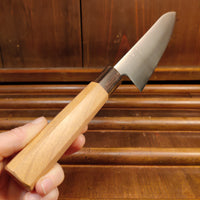 Hitohira Futana SB 180mm Gyuto Aogami Super Migaki Cherry Wood
Regular Price

$170.00

Sale Price

$170.00

Regular Price

Unit Price

/

per
Soft stainless clad aogami super carbon steel with matte polished migaki finish with a slightly convex grind on the face of the blade. This factory forged series is very affordable especially compared to the higher end aogami super knives with more hand work in their forging and grinding. This treatment of aogami super can be sharpened at a variety of finishes depending to the users taste but it does great in the 4K finish range from our tests.
Aogami super is a carbon steel made by Yasugi Specialty Steels for Hitachi and like other aogami series steels (#2, #1 and super) is alloyed with tungsten with makes for good edge retention, the addition of vanadium in aogami super makes for more wear resistance and gives aogami super a long cutting duration. Like other steels it can have different personalities at different treatments.
Brand: Hitohira ひとひら (一片)
Profile: Gyuto
Size: 180mm
Steel Type: Carbon Steel
Steel: Yasuki Blue (Aogami) Super, Soft Stainless Clad
Handle: Cherry Wood & Ebony Ferrule Octagonal
Total Length: 331mm
Edge Length: 186mm
Handle to Tip Length: 195mm
Blade Height: 43mm
Thickness: 2mm
Handle Length: 134mm
Weight: 119g
Hand Orientation: Ambidextrous
Hardness: 61±1HRC
About Bernal Cutlery
We are a full-service cutlery shop offering sharpening services, Japanese and Western culinary knives, vintage knives, outdoor, pocket and craft knives, cooking tools and accessories. We also offer knife skills and sharpening classes, and more.
We are proud to serve kitchen professionals, knife enthusiasts and home cooks alike. Located in the Mission District of San Francisco, California.