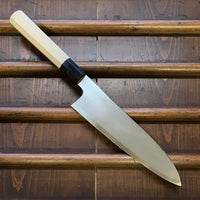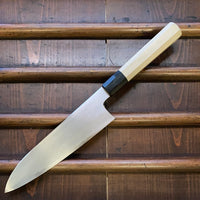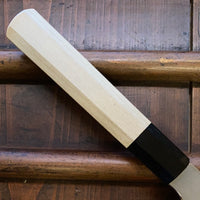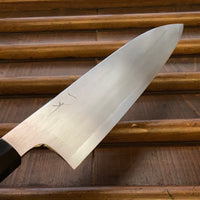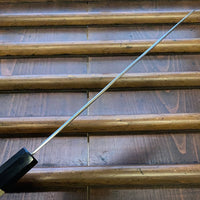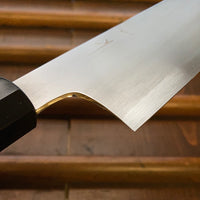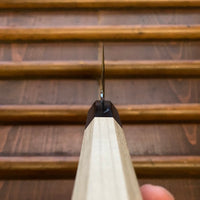 Hitohira Gorobei Rikichi 210mm Gyuto Shirogami 2 Kasumi Ho Wood
Regular Price

$230.00

Sale Price

$230.00

Regular Price

Unit Price

/

per
Hand forged iron clad shirogami 2 carbon steel with a right biased convex 'hamaguri' grind (more convexity on the right hand outside of blade) making for fine precise work with excellent food release. The iron cladding has a fine hazy finish surface which also aides in food release.
We have been very impressed with this series from Hitohira. These Gorobei knives are thinly ground, light and nimble but still feel in charge during work. Their slightly taller blades allow for more clearance without feeling wobbly.
This excellent treatment of shirogami gets phenomenally sharp very easily, while it is not pre-engineered for edge life, it is a sharpeners dream steel. It is a blank canvas for experimenting with different finishing stones.
Shirogami is a reactive carbon steel. It should be dried immediately after use to avoid rusting. It will patina with normal use. Rust can be removed with a light abrasive.
Brand: Hitohira ひとひら (一片)
Producing Area: Sakai-Osaka/ Japan
Profile: Gyuto
Size: 210mm
Steel Type: Carbon Steel
Steel: Yasuki White (Shirogami) #2, Soft Iron Clad
Handle: Ho Wood & Buffalo Horn Ferrule Octagonal
Total Length: 349mm
Edge Length: 198mm
Handle to Tip Length: 212mm
Blade Height: 49mm
Thickness: 2.1mm
Handle Length: 138mm
Weight: 151g
Hand Orientation: Ambidextrous
About Bernal Cutlery
We are a full-service cutlery shop offering sharpening services, Japanese and Western culinary knives, vintage knives, outdoor, pocket and craft knives, cooking tools and accessories. We also offer knife skills and sharpening classes, and more.
We are proud to serve kitchen professionals, knife enthusiasts and home cooks alike. Located in the Mission District of San Francisco, California.