Last ordering day for Dec 25th arrival is Friday Dec 15th. Orders placed after this day may not arrive in time (per USPS). We are unable to offer expedited shipping.
Questions about Sharpening Services? Click here.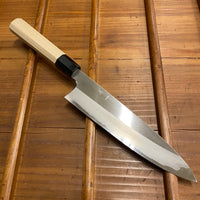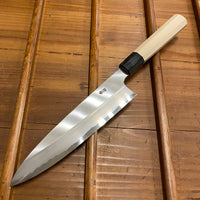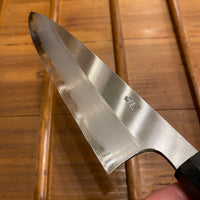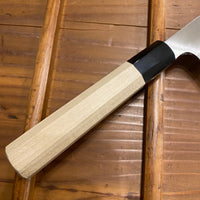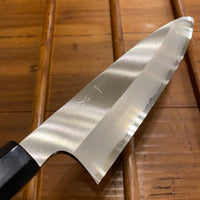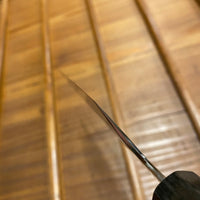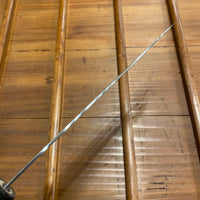 Hitohira Togashi 210mm Gyuto Stainless Clad Shirogami 1 Ho Handle
Regular Price

$390.00

Sale Price

$390.00

Regular Price

Unit Price

/

per
Hand made in Sakai, stainless clad shirogami 1 forged by dentoukougeishi master smith Kenji Togashi and expertly ground by his son. Stainless clad shirogami 1 is a less common combination as it is more challenging to work but it offers a great combination of the shirogami 1 carbon steel's fine edge formation and long edge life with the stainless steel's ease of use.
These are super easy to sharpen with a great cutting duration and smooth cutting feel with nicely finished corners. Slightly larger than usual geometry for a Sakai gyuto but still following in that style. Octagonal ho wood and horn handle shaves a little weight off and makes for a very secure grip even when wet or greasy.
Brand: Hitohira ひとひら (一片)
Smith: Togashi Blacksmith 富樫打刃物製作所
Producing Area: Sakai-Osaka/ Japan
Profile: Gyuto
Size: 210mm
Steel Type: Carbon Steel
Steel: Yasuki White (Shirogami) #1, Soft Stainless Clad
Handle: Ho Wood & Buffalo Horn Ferrule Octagonal
Total Length: 358mm
Edge Length: 200mm
Handle to Tip Length: 214mm
Blade Height: 47mm
Thickness: 1.8mm
Handle Length: 142mm
Weight: 153g
Hand Orientation: Ambidextrous
Sharpener: Kenya Togashi
About Bernal Cutlery
We are a full-service cutlery shop offering sharpening services, Japanese and Western culinary knives, vintage knives, outdoor, pocket and craft knives, cooking tools and accessories. We also offer knife skills and sharpening classes, and more.
We are proud to serve kitchen professionals, knife enthusiasts and home cooks alike. Located in the Mission District of San Francisco, California.