Last ordering day for Dec 25th arrival is Friday Dec 15th. Orders placed after this day may not arrive in time (per USPS). We are unable to offer expedited shipping.
Questions about Sharpening Services? Click here.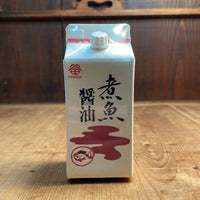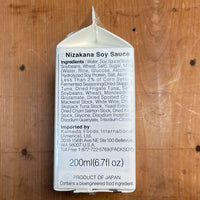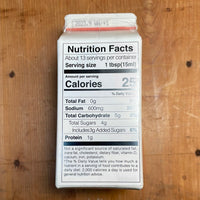 Kamada Nizakana Soy Sauce - 200ml
Regular Price

$12.00

Sale Price

$12.00

Regular Price

Unit Price

/

per
For the Japanese food lover who may be intimidated by having to mix together 5 different ingredients with the right ratio. This one bottle from Kamada will allow you to make amazing nizakana (stewed fish) just like at a restaurant!
To make the Nizakana Soy, Kamada added broth made from dried mackerel and tuna, seaweed, and their original smoked salmon to their home-brewed soy sauce. Mirin and wine add a hint of sweetness. This soy sauce gives a rich flavor to poached fish (nizakana) as well as many other dishes.
How to use:
Stewing fish, as a chicken marinade, or making stewed eggs!
Dilution instructions:
Blue fish (ex mackerel) Dashi1: Water 2-3
White fish (ex flounder) Dashi 1: Water 3-4
Dilute the dashi as instructed, put fish inside, and a "otoshibuta" (usually a wooden lid that is smaller than the pot that will sit directly on top of the food to ensure that the broth comes up over the food and hence seasons/cooks it), boil over low.
Can also use with Daikoku Banko Kokuryu and Toban donabe
Kamada soy sauce is widely known in Japan for its excellent quality products at an affordable price point, and is often given in gift sets.
Kamada has been making premium soy sauce in the Sanuki region of Japan since 1789, the year of the French Revolution.

The district of Sanuki (now Kagawa Prefecture), on Shikoku Island in Southern Japan, was long famous for salt production. Sanuki's shoal beaches produced 80% of Japan's salt for many years. The ample sunshine and open fields were also perfect for growing wheat and soybeans. This made Sanuki an ideal region for soy sauce production.
About Bernal Cutlery
We are a full-service cutlery shop offering sharpening services, Japanese and Western culinary knives, vintage knives, outdoor, pocket and craft knives, cooking tools and accessories. We also offer knife skills and sharpening classes, and more.
We are proud to serve kitchen professionals, knife enthusiasts and home cooks alike. Located in the Mission District of San Francisco, California.