Last ordering day for Dec 25th arrival is Friday Dec 15th. Orders placed after this day may not arrive in time (per USPS). We are unable to offer expedited shipping.
Questions about Sharpening Services? Click here.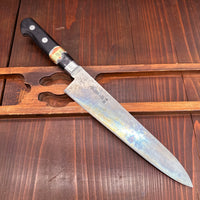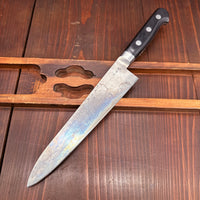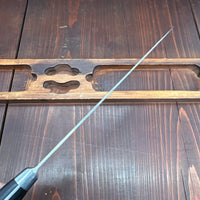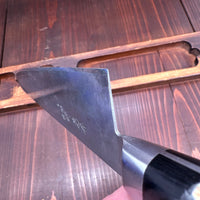 Used Sakai Kikumori Nihonkou 210mm Gyuto Carbon Steel From Sharpening Class
Regular Price

$50.00

Sale Price

$50.00

Regular Price

$108.00

Unit Price

/

per
Used in the sharpening class that we offer, this knife is one of 6, it might not be identical to one in photo but will be very similar. It has been sharpened in a little but not too heavily.
Sakai Kikumori 'Nihonkou' 210mm Gyuto SK Carbon tool steel with riveted pakka wood handle.

Sakai Kikumori's Nihonkou line are reasonably priced factory made carbon steel knives with a carbon content of .95%, hardened to approx 63 HRC.

Thin SK mono-steel blades cut very nicely with their thin profile and are super easy to sharpen and get a nice edge that holds well. They are ideal for the professional or home cook who is looking for a great workhorse with easy sharpen-ability.
Sometimes, SK family steels are viewed as inferior to more refined Japanese carbon steels like shirogami or aogami. However, when making single steel knives, SK has its advantages. SK steel rusts slower than many other carbon steels and has a good toughness, which benefits a thin mono steel knife.
This is a non-stainless carbon steel, it should be mentioned that extra care is required, it should be washed and dried immediately after use. It will develop a dark patina with usage, but any orange rust should be removed with a light abrasive.
Sakai Kikumori was started in 1926 and draws on Sakai's 600 year history as the major center of traditional Japanese cutlery manufacturing. They work with a large variety of Sakai's best smiths, sharpeners and small factories to offer a wide variety of knives ranging from traditional materials and styles to more modern, western influenced styles and materials.
About Bernal Cutlery
We are a full-service cutlery shop offering sharpening services, Japanese and Western culinary knives, vintage knives, outdoor, pocket and craft knives, cooking tools and accessories. We also offer knife skills and sharpening classes, and more.
We are proud to serve kitchen professionals, knife enthusiasts and home cooks alike. Located in the Mission District of San Francisco, California.