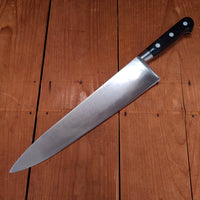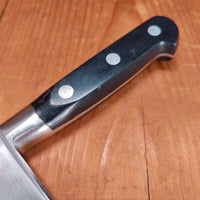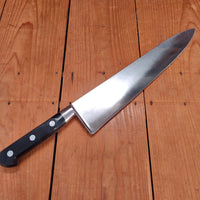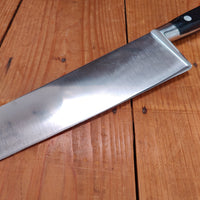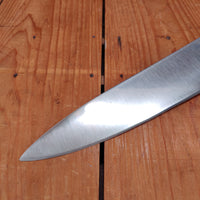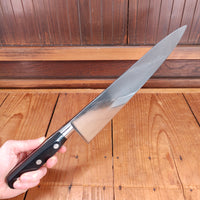 A Stock New Vintage 30cm 11.75" Ideal Chef Carbon POM Thiers 1970's-90's
Regular Price

$294.13

Sale Price

$294.13

Regular Price

$0.00

Unit Price

/

per
New old stock unmarked 30cm / 11.75" carbon steel chef knives from the vintage vault!  These knives are unmarked, so dating is a little difficult, but they were most likely made in the the 1960's to 90's.
They were hand forged after being drop forged and hand ground on water stones in the old Thiers style.  This lends to giving them a great geometry, making them nimble where they need to be and tough in the heel. These are the quintessential post war French chef knife. 
A Stock are the best quality among the knives from this stock, we accepted small imperfections in the blade straightness which for the age is typical but rejected bends or waviness that would impede sharpening or use. 
Please note these can have small rust spots or imperfections, slight cants or waviness to the edge is possible as well. We do quality control on these but imperfections are part of the picture.

Please request sharpening if desired, they are not sharp now.
Brand: Unmarked
Producing Area: Thiers, France
Profile: Chef
Size: 30cm / 11.75"
Steel Type: Carbon
Handle: POM
Total Length: 43cm / 17"
Edge Length: 305mm / 12"
Handle to Tip Length: 30cm / 11.75"
Blade Height:  60mm / 2.25"
Thickness: 5.45mm / 0.215"
Handle Length: 130mm / 5.25"
Weight: 374g / 13.2oz
Hand Orientation: Ambidextrous

About Bernal Cutlery
We are a full-service cutlery shop offering sharpening services, Japanese and Western culinary knives, vintage knives, outdoor, pocket and craft knives, cooking tools and accessories. We also offer knife skills and sharpening classes, and more.
We are proud to serve kitchen professionals, knife enthusiasts and home cooks alike. Located in the Mission District of San Francisco, California.