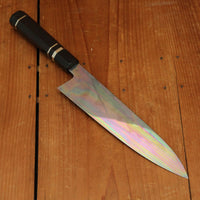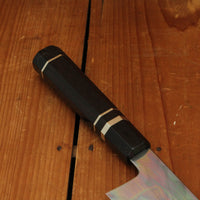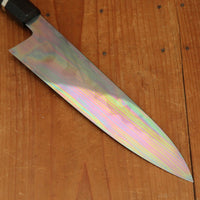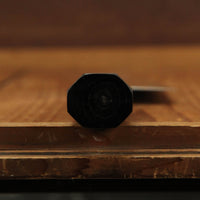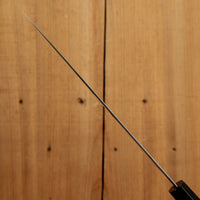 Hashimoto Shoichi 240mm Gyuto Mizu Honyaki Shirogami 1 Ebony Black Horn
Regular Price

$3,895.81

Sale Price

$3,895.81

Regular Price

Unit Price

/

per
Water quenched shirogami 1 honyaki carbon steel forged by Satoshi Hashimoto, a blacksmith out of Hiroshima doing very impressive traditional Japanese blacksmithing work and sharpened and finished by Myojin Naohito, a sharpener whose work we have come to really appreciate both in his geometry and exquisite finish.
The finish polishing brings out the distinctive 'jihada' or carbon structure that Hashimoto-san is able to form in his forging process, it is not a suminagashi or pattern welded damascus, as this is all the same steel. 
High carbon content shirogami 1 is a steel with a simple alloy composition of iron, carbon and a little silica that is a true testament to a smith's skill in forging and heat treatment. It is capable of taking extremely fine and nuanced edges and holding them well. Differential heat treated honyaki is a difficult technique that creates a blade with a hard edge and softer tougher spine and tang. It should be noted that water quench honyaki has exceptional edge life but also is potentially brittle if mistreated.
We do not recommend this knife for use by those who are not very experienced with Japanese hand made knives. 
This is a reactive carbon steel. It should be mentioned that extra care is required, as the knife is not stainless and should be dried immediately after use. It will develop a dark patina with usage.
Brand:
Hashimoto Shoichi
Smith:
Satoshi Hashimoto
Sharpener: 
Myojin Naohito
Producing Area:
Hiroshima, Japan
Profile:
Gyuto
Size:
240mm
Steel Type:
Mizu Honyaki (Water-quench)
Carbon Steel
Steel:
Shirogami 1
Handle:
Ebony Black Horn 3 Spacers
Total Length:
390mm
Edge Length:
239mm
Handle to Tip Length:
252mm
Blade Height:
53mm
Thickness:
2.8mm
Handle Length:
138mm
Weight:
244g
Hand Orientation:
Ambidextrous 
About Bernal Cutlery
We are a full-service cutlery shop offering sharpening services, Japanese and Western culinary knives, vintage knives, outdoor, pocket and craft knives, cooking tools and accessories. We also offer knife skills and sharpening classes, and more.
We are proud to serve kitchen professionals, knife enthusiasts and home cooks alike. Located in the Mission District of San Francisco, California.