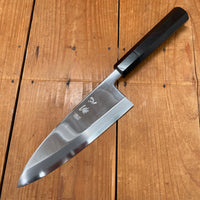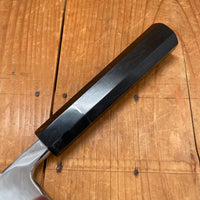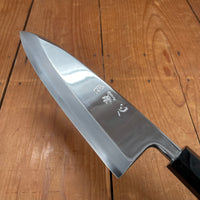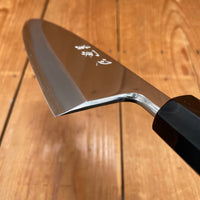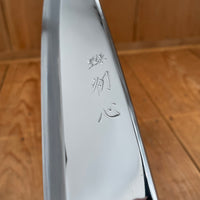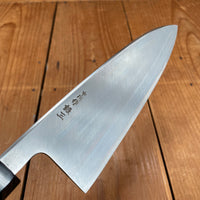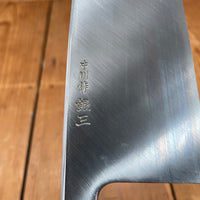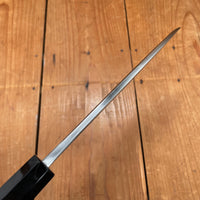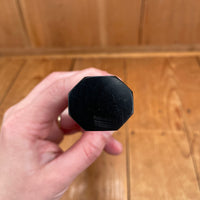 Hatsukokoro Nakagawa 180mm Deba Ginsanko Stainless Ebony Black Buffalo Horn - LEFTY
Regular Price

$795.97

Sale Price

$795.97

Regular Price

Unit Price

/

per
Deba are an old Japanese knife style intended for fish butchery, it is a heavy knife that is capable of fine and tough work in fish butchery but is not designed for other types of butchery and can chip of thick bones if used incorrectly.
Nakagawa-san's knives are characterized by excellent heat control during forging and a very thorough heat treatment creating knives that have superb edge formation and edge life with good toughness. His carbon steels are usually easy to sharpen across most steel types. Nakagawa-san's reputation as one of a few blacksmiths in Sakai to forge Ginsanko and VG10 stainless steels that results in excellent edge life and toughness is well earned.
The sharpener on this series is credited as Kawakita Hamono operated by Kazumi Kawakita. Kawaita-san is a famed master sharpener who lists many notable and well-respected Sakai sharpeners as former students. Notably Morihiro who pioneered putting traditional Sakai wide bevels on double bevel wa-hochos. He was the sole sharpener of the Konosuke Fujiyama line (until 2018) and also works on the Sakai Kikumori Choyo series as well as a credited grinder for Nakagawa and other projects from Sakai.
This knife will perform best at a lower finish polish, 3-4K being the best edge for fish butchery. 
Brand: Hatsukokuro
Smith: Satoshi Nakagawa
Sharpener: Kawakita
Producing Area: Sakai, Osaka, Japan
Profile: Deba
Size: 180mm
Steel Type: Stainless
Steel: Ginsanko
Handle: Ebony Handle
Total Length:  343mm
Edge Length: 187mm
Handle to Tip Length: 206mm
Blade Height: 56mm
Thickness: 6.4mm
Handle Length: 138mm
Weight: 378grams
Hand Orientation: Left Handed 
About Bernal Cutlery
We are a full-service cutlery shop offering sharpening services, Japanese and Western culinary knives, vintage knives, outdoor, pocket and craft knives, cooking tools and accessories. We also offer knife skills and sharpening classes, and more.
We are proud to serve kitchen professionals, knife enthusiasts and home cooks alike. Located in the Mission District of San Francisco, California.