Our storefront will be close Monday 9/25 for Yom Kippur.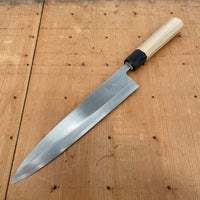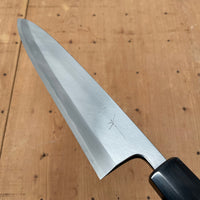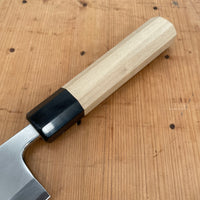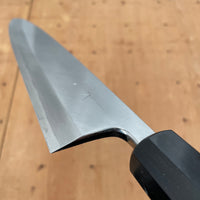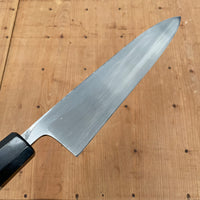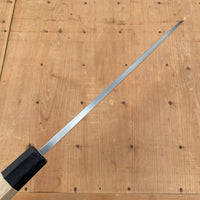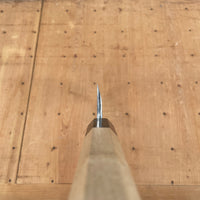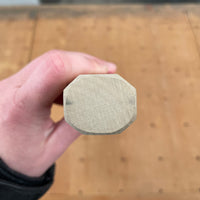 Hitohira Kikuchiyo Manzo 240mm Mioroshi Deba Shirogami 3 Ho Wood - LEFTY
Regular Price

$671.05

Sale Price

$671.05

Regular Price

Unit Price

/

per
Hand forged and ground in Sakai, these are a very good treatment of shirogami 3 which is often associated with less expensive knives, this treatment of shirogami 3 is done very well and has a longer edge life than what is typically associated with this steel while still keeping the toughness and easy sharpenability it is known for. 
Shirogami 3 has the lowest carbon content of the three shirogami steels; 3, 2 and 1 with shirogami 1 having the highest. Often toughness decreases and edge life increases as one moves from 3 to 1. 
This knife is discounted for small cosmetic scratches similar to the ones in the detail shot of the ura. 
Brand: Hitohira ひとひら (一片)
Smith: Kikuchiyo 菊千代
Producing Area: Sakai-Osaka/ Japan
Profile: Mioroshi Deba
Size: 240mm
Steel Type: Carbon Steel
Steel: Yasuki White (Shirogami) #3, Soft Iron Clad
Handle: Ho Wood & Buffalo Horn Ferrule Octagonal
Total Length: 412mm
Edge Length: 246mm
Handle to Tip Length: 263mm
Blade Height: 47mm
Thickness: 6.6mm
Handle Length: 149mm
Weight: 357g
Hand Orientation: Left-Handed
Sharpener: Manzo
About Bernal Cutlery
We are a full-service cutlery shop offering sharpening services, Japanese and Western culinary knives, vintage knives, outdoor, pocket and craft knives, cooking tools and accessories. We also offer knife skills and sharpening classes, and more.
We are proud to serve kitchen professionals, knife enthusiasts and home cooks alike. Located in the Mission District of San Francisco, California.