Our storefront will be closed Monday 9/25 in observance of Yom Kippur.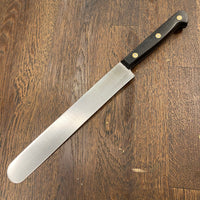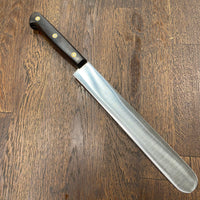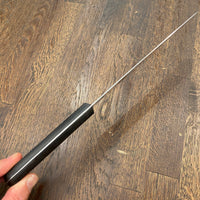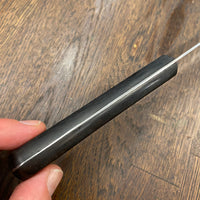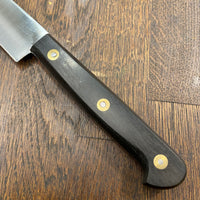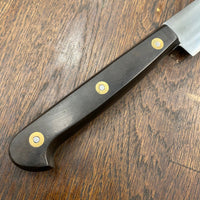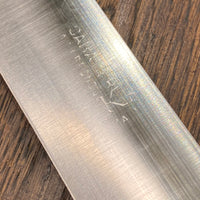 K Sabatier New Vintage 7.5" Ham Knife Hand Forged Carbon Steel Palisander
Regular Price

$106.49

Sale Price

$106.49

Regular Price

Unit Price

/

per
These 'Plate-Semelle' or 'flat plate' knives were made in Theirs, France, in the 1950s. These were the working-class knives of their day. They lived for action in the back kitchen, or 'office', where game would be processed in large homes. They also served as work knives in more humble homes.
Plate-Semelle knives represent the last, large scale commercial application of a very old forging technique. First, a bar of steel was drawn out to form the blade on an old mechanical trip hammer. Next, a softer, lower carbon steel or iron tang is forge-welded on to the blade to form the handle. This would save steel and make it easier to drill holes through the handle and into the tang. The tang (handle area) is also drawn out on the hammer; making for a tapered blade and tang, with a thick area where the two meet.

The origins of the nearly ubiquitous bolster on western knives lies in this bulge of steel where the blade and tang meet. During the Middle Ages, fine cutlery offered at noble and church banquets were an important mark of wealth and power. In the making of fine cutlery, the bulge in the center of the knife was left thick and intricately ground, in addition to other embellishments to the knife. This feature became emblematic of fine cutlery. It lives on today in the more subdued, less ornate bolsters that characterize western culinary knives.
Being handmade, there are slight differences between knives and they may have imperfections; slightly wavy blades, asymmetrical handle scales, etc. They were made to be affordable, hard workers, without a lot of fuss. If you can deal with these imperfections, you will be rewarded with a knife that has a great cutting feel and is truly a piece of history!

Since 1834, K Sabatier has been the dedicated brand of Sabatier Aine & Perrier; a family cutlery business started by Philippe Sabatier in the early 1800's. The business has been passed down eight generations, and has remained located in the hills of Thiers, France, in the village of Bellevue. They continue to run their company with pride and precision; keeping all aspects of the manufacturing process within the area of Thiers.
| | |
| --- | --- |
| Steel Type | Carbon Steel |
| Handle Material | Palisander |
| Weight | 2.95 oz |
| Height at Heel | 1" |
| Overall Length | 13.25" |
| Cutting Edge Length | 8.75" |
| HRC | |
About Bernal Cutlery
We are a full-service cutlery shop offering sharpening services, Japanese and Western culinary knives, vintage knives, outdoor, pocket and craft knives, cooking tools and accessories. We also offer knife skills and sharpening classes, and more.
We are proud to serve kitchen professionals, knife enthusiasts and home cooks alike. Located in the Mission District of San Francisco, California.