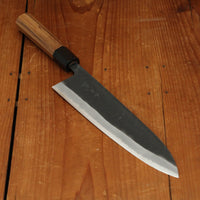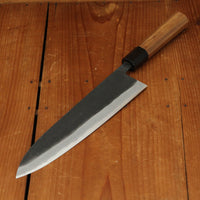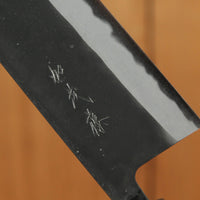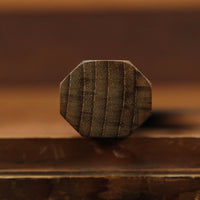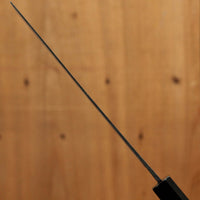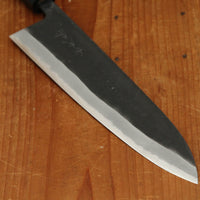 Kamo Shiro 240mm Gyuto Aogami Super Kurouchi Teak Horn
Regular Price

$303.48

Sale Price

$303.48

Regular Price

Unit Price

/

per
Hand forged in Takefu, Japan by blacksmith Shiro Kamo with an iron clad aogami super core and horn ferruled teak handle.
Aogami super is famous for its edge duration, the addition of tungsten and vanadium to its alloy make for a toothy cutting feel as the edge begins to dull, aogami super holds its peak sharpness well but really gets its duration from its ability to cut well as it dulls. 
These represent an affordable style of knife making that Takefu is known for, this is going to do best sharpened at 3-4K rather than a finer finish that a more thorough treatment of aogami super will work well at. 
This knife has a hard carbon steel core with iron cladding for added durability. The entire blade will develop a patina with use, especially with acidic foods. Special attention is needed to keep from rusting. Do not leave wet. Hand wash & dry, no dishwasher. Hardwood-end grain or softwood long grain cutting boards are preferred; avoid bamboo and plastic cutting boards. Rust can be removed with a light abrasive.
Brand: Kamo Shiro
Producing Area: Takefu, Japan
Profile: Gyuto
Size: 240mm
Steel Type: Carbon Steel
Steel: Aogami Super
Handle: Teak Horn
Total Length: 400mm
Edge Length: 247mm
Handle to Tip Length: 261mm
Blade Height: 54mm
Thickness: 2.6mm
Handle Length: 138mm
Weight: 214g
Hand Orientation: Ambidextrous
Sharpener:
Saya:
About Bernal Cutlery
We are a full-service cutlery shop offering sharpening services, Japanese and Western culinary knives, vintage knives, outdoor, pocket and craft knives, cooking tools and accessories. We also offer knife skills and sharpening classes, and more.
We are proud to serve kitchen professionals, knife enthusiasts and home cooks alike. Located in the Mission District of San Francisco, California.