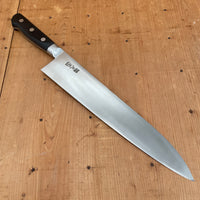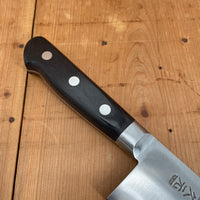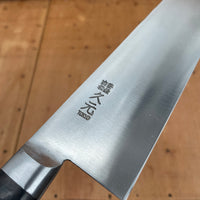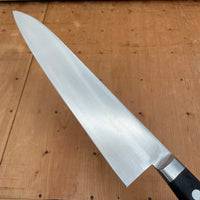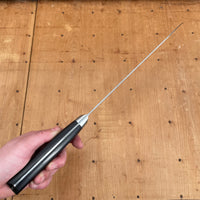 Morihei Hisamoto Hagane 270mm Gyuto Pakka Handle
Regular Price

$308.77

Sale Price

$308.77

Regular Price

Unit Price

/

per
Old style forged carbon steel Kanto knife. These represent the original yo bocho style whose design remained relatively unchanged for decades. We are big fans of carbon steel knives like this. They cut smoothly, sharpen easily and are not terribly delicate if a few basic rules are followed.
The out-of-the-box sharpness on these is one of the best out there, as they receive a natural stone finish at the Morihei workshop before being boxed up. Bonus points if you follow up with a Japanese natural stone on these. Any self slurrying honyama stone in the 3-4 hardness and 3-4 fineness (1-5 scale) range is great.  
Being forged, these have a longer edge life and a wider range of finishes they work at. While we are a big fan of stamped Carbon Steel Nihonkou style knives these are a step up in quality that is commensurate with the higher price. SKS steel has vanadium which adds a good amount of edge life over standard SK tool steel used in similar looking western handled yo bocho. 
These have a strong right hand bias to the face of the blade and are not recommended for left handed users.
Brand: Morihei 森平
Producing Area: Tokyo/ Japan
Profile: Gyuto
Size: 270mm
Steel Type: Carbon Steel
Steel: Mono SKS High Carbon
Handle: Pakka Western
Total Length: 400mm
Edge Length: 270mm
Handle to Tip Length: 280mm
Blade Height: 51mm
Thickness: 1.9mm
Handle Length: 120mm
Weight: 231g
Hand Orientation: Right-Handed
Final Edge: Morihei 森平
About Bernal Cutlery
We are a full-service cutlery shop offering sharpening services, Japanese and Western culinary knives, vintage knives, outdoor, pocket and craft knives, cooking tools and accessories. We also offer knife skills and sharpening classes, and more.
We are proud to serve kitchen professionals, knife enthusiasts and home cooks alike. Located in the Mission District of San Francisco, California.