Our storefront will be closed Monday 9/25 in observance of Yom Kippur.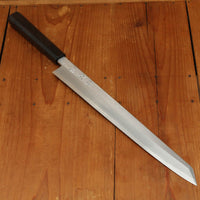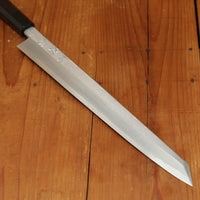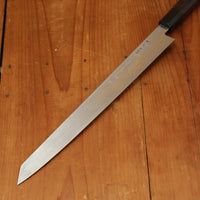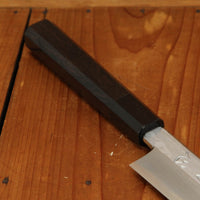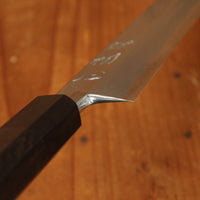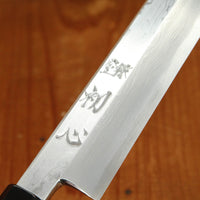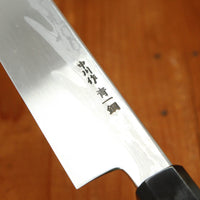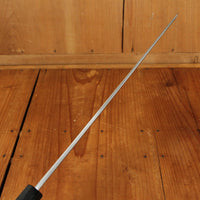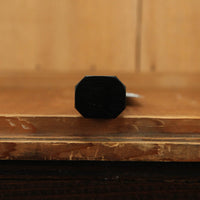 Hatsukokuro Nakagawa 330mm Kiritsuke Yanagi Aogami 1 Damascus Black Buffalo Horn
Regular Price

$1,131.58

Sale Price

$1,131.58

Regular Price

Unit Price

/

per
Beautifully hand forged suminagashi damascus over aogami 1 carbon steel with horn ferruled ebony handle.
Satoshi Nakagawa knives are characterized by excellent heat control during forging and a very thorough heat treatment creating knives that have superb edge formation and edge life with good toughness. His carbon steels are usually easy to sharpen across most steel types. Nakagawa-san reputation as one of a few blacksmiths in Sakai to forge Ginsanko and VG10 stainless steels that results in excellent edge life and toughness is well earned.
The sharpener on this series is credited as Kawakita Hamono operated by Kazumi Kawakita. Kawaita-san is a famed master sharpener who lists many notable and well-respected Sakai sharpeners as former students. Such as Morihiro, notably the sole sharpener of the Konosuke Fujiyama line (until 2018) who also worked on the Sakai Kikumori Choyo series as well as a credited grinder for Nakagawa and other projects from Sakai.
This knife has a hard carbon steel core with iron cladding for added durability. The entire blade will develop a patina with use, especially with acidic foods. Special attention is needed to keep from rusting. Do not leave wet. Hand wash & dry, no dishwasher. Hardwood-end grain or softwood long grain cutting boards are preferred; avoid bamboo and plastic cutting boards. Rust can be removed with a light abrasive.
Brand:
Hatsukokoro
Smith:
Satoshi Nakagawa
Sharpener:
Kawakita Hamono
Producing Area:
Sakai, Osaka, Japan
Profile:
Kiritsuke Yanagi
Size:
330mm
Steel Type:
Iron Clad Carbon
Steel:
Aogami 1
Handle:
Ebony with Horn Ferrule
Total Length:
483mm
Handle Length:
149mm
Handle to Tip Length:
334mm
Blade Height:
38mm
Edge Length:
321mm
Thickness:
5.2mm
Weight:
317g
Hand Orientation:
Right Handed 
About Bernal Cutlery
We are a full-service cutlery shop offering sharpening services, Japanese and Western culinary knives, vintage knives, outdoor, pocket and craft knives, cooking tools and accessories. We also offer knife skills and sharpening classes, and more.
We are proud to serve kitchen professionals, knife enthusiasts and home cooks alike. Located in the Mission District of San Francisco, California.