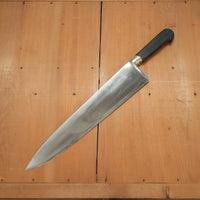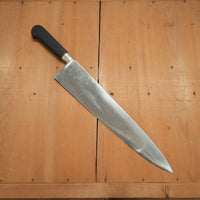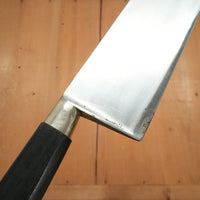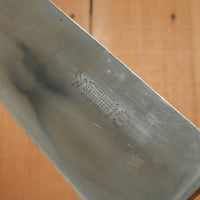 New Vintage PD Sabatier Acier Fondu 35cm / 13.75" Chef Knife Cuisine Massive / Nogent Carbon 1930's?
Regular Price

$503.49

Sale Price

$503.49

Regular Price

Unit Price

/

per
New Vintage unused Patural Duprat 'Sabatier Acier Fondu' XXL 35cm /13.75" hand forged carbon steel chef knife in the 'cuisine massive' style now largely referred to as 'Nogent style' by those outside of Thiers. This style of knife was developed in Thiers long before the upstart town of Nogent started adding knives to their manufacturing (they had been known for scissors in the earlier 19th century).
These were found with other new old stock knives made in the 1950's and with some Sabatier **** suggesting a group of knives made in Saint-Remy which is on the other side of the Durolle River from adjourning Thiers. They sport a hand forged hand ground blade that is ground with an S grind, that is a little bit concave in the center of the blade with a convex area behind the edge. Handle is one piece ebony with a brazed nickel ferrule. 
These have been very lightly cleaned to remove the wax that kept them rust free for all these decades, expect a few tiny rust spots, some discoloration to the ferrule and a crack or two in the ebony (all handles are secure, ebony likes to crack with age). We opted for as little intervention as possible to preserve their original surface grind, and keep their character. It is so uncommon to find knives like this in their original state. They could always be buffed but never un-buffed.
While it is hard to pin point the exact years these were made the brazed nickel ferrule ring along with the etched blade marking suggests 30's to early 50's manufacture, although the brazed nickel ferrule is an older type construction that was phased out by one piece aluminum tube ferrules in the 50's.
Patural Duprat et Cie (PD) established 1901 made in Saint-Remy, a small town with an old knife making tradition across the Durolle river from Thiers. In 1918 Mathieu Feuillet Patural renewed the trade marks "Sabatier ****" (four stars) which had belonged to Gabriel Sabatier of Chabreloche and registered a new trade mark "Sabatier Acier Fondu" (Sabatier Cast Steel). Both the new vintage Sabatier Acier Fondu and Sabatier **** were found together with the same ferrule construction, the Acier Fondu mostly with etched markings and the 4 star with hot stamp suggesting that they were likely made during the same period of time when the two stamping styles overlapped. In 1958 the Sabatier **** brand was sold and would become integrated into the Thiers Issard company name. PD advertised that the factories used hydrolic, hydroelectric and gas power in Saint Remy Sur Durolle.
Please note these can have small rust spots or imperfections, slight cants or waviness to the edge is possible as well. We do quality control on these but imperfections are part of the picture.

Please request sharpening if desired, they are not sharp now.
About Bernal Cutlery
We are a full-service cutlery shop offering sharpening services, Japanese and Western culinary knives, vintage knives, outdoor, pocket and craft knives, cooking tools and accessories. We also offer knife skills and sharpening classes, and more.
We are proud to serve kitchen professionals, knife enthusiasts and home cooks alike. Located in the Mission District of San Francisco, California.