Our storefront will be closed Monday 9/25 in observance of Yom Kippur.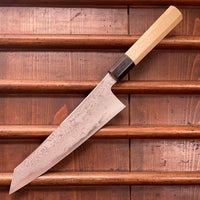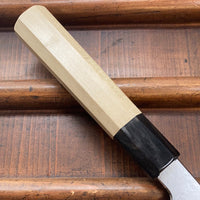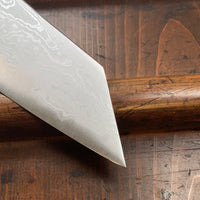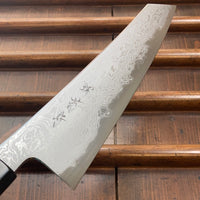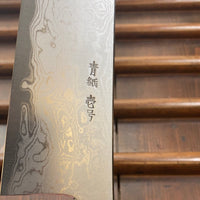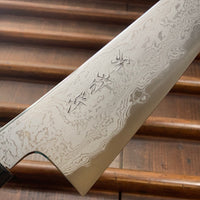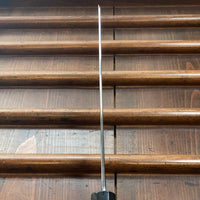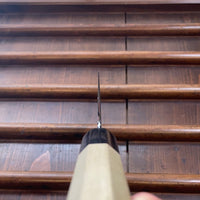 Sakai Kikumori x Bernal Cutlery Sori 225mm Kiritsuke Gyuto Aogami 1 Suminagashi
Regular Price

$871.91

Sale Price

$871.91

Regular Price

Unit Price

/

per
Sakai Kikumori Sori 225mm Kiritsuke Gyuto. Double bevel aogami #1 core blade iron and mild steel suminagashi cladding. Octagon magnolia wood and water buffalo ferrule handle. Made from Bernal Cutlery specifications and idea for a sori ("bent" or curved) spine for added clearance and extra curve in the edge to keep the kiritsuke tip high off the board during a forward push cut.

Aogami 1 has the best edge formation of the aogami steels. It typically works best at slightly finer finishes and has excellent edge life when finished well.
Sori knives are forged by Tanaka Hamono. Tanaka-san's top level forging and heat treatments make for unusually easy sharpening, superb edge life and toughness.
These knives represent some of the best of Sakai's knife making. They are forged and sharpened by craftspeople who are highly respected for preserving demanding traditional techniques while contributing their own refinements and creativity to the trade.
Sakai Kikumori was started in 1926 and draws on Sakai's 600 year history as the major center of traditional Japanese cutlery manufacturing. They work with a large variety of Sakai's best smiths, sharpeners and small factories to offer a wide variety of knives ranging from traditional to modern.
This knife has a hard carbon steel core with iron cladding for added durability. The entire blade will develop a patina with use, and especially so with acidic foods. Special attention is needed to keep from rusting. Hand wash and dry before storing. Do not leave wet and do not use a dishwasher. Rust can be removed with a light abrasive.
Hardwood-end grain or softwood long grain cutting boards are preferred. Avoid bamboo and plastic cutting boards.
Brand: Sakai Kikumori
Smith: Tanaka Hamono
Producing Area: Sakai-Osaka, Japan
Profile: Kiritsuke Gyuto
Size: 225mm
Steel Type: Carbon Steel
Steel: Aogami 1
Handle: Magnolia Wood & Buffalo Ferrule Octagonal
Total Length: 367mm
Edge Length: 217mm
Handle to Tip Length:
Blade Height: 52mm
Thickness: 3mm
Handle Length:
Weight: 159g
Hand Orientation:
Sharpener:
HRC: 63-64
About Bernal Cutlery
We are a full-service cutlery shop offering sharpening services, Japanese and Western culinary knives, vintage knives, outdoor, pocket and craft knives, cooking tools and accessories. We also offer knife skills and sharpening classes, and more.
We are proud to serve kitchen professionals, knife enthusiasts and home cooks alike. Located in the Mission District of San Francisco, California.