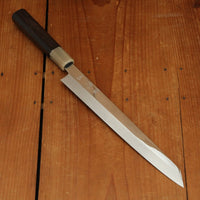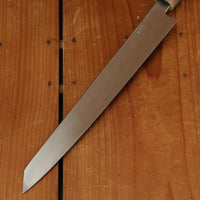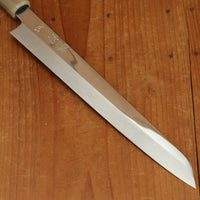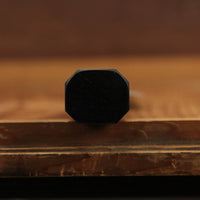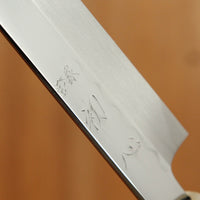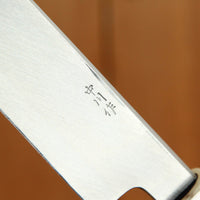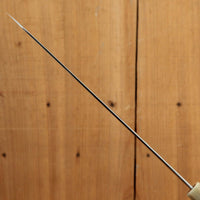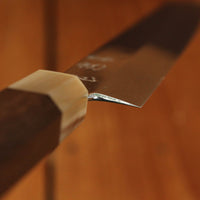 Hatsukokuro Nakagawa 270mm Kiritsuke Yanagi Shirogami 3 Abura Honyaki Ebony Blonde Buffalo Horn
Regular Price

$1,328.31

Sale Price

$1,328.31

Regular Price

Unit Price

/

per
Beautifully hand forged and kyomen mirror finished shirogami 3 carbon steel differentially heat treated oil quench honyaki with horn ferruled ebony handle.
Nakagawa-san's knives are characterized by excellent heat control during forging and a very thorough heat treatment creating knives that have superb edge formation and edge life with good toughness. 
These knives feature super fine grinding by Morihiro, known for his single and wide double bevel grinding work. Morihiro was instrumental in bringing Sakai's tradition of single bevel grinding to double bevel wa-hocho.
Shirogami 3 is the lowest carbon content of the shirogami group of steels yet is still a very high carbon alloy loved for its ability to take an amazing edge. Shiro 3 has the greatest toughness of all shirogami steels which makes it a good choice for a tougher oil quench honyaki. Honyaki heat treatment relies on a single steel blade as opposed to a clad steel / mild steel or iron construction. Honyaki can be more brittle so oil quench shiro 3 will be the toughest of honyaki blades. Oil quench shirogami 3 honyaki will hold an edge much longer than clad shirogami 3 and has the ability to have a very fine but slightly toothy feeling edge at fine finishes. A great steel for those who sharpen. 
The entire blade will develop a patina with use, especially with acidic foods. Special attention is needed to keep from rusting. Do not leave wet. Hand wash & dry, no dishwasher. Hardwood-end grain or softwood long grain cutting boards are preferred; avoid bamboo and plastic cutting boards. Rust can be removed with a light abrasive.
Brand: Hatsukokoro
Smith: Satoshi Nakagawa
Sharpener: Morihiro Hamono
Producing Area: Sakai, Osaka, Japan
Profile: Kiritsuke Yanagi
Size: 270mm
Steel Type: Oil Quenched Honyaki Carbon Steel
Steel: Shirogami 3
Handle: Ebony Blonde Buffalo Horn
Total Length:  410mm
Edge Length: 259mm
Handle to Tip Length: 272mm
Blade Height: 34mm
Thickness: 3.4mm
Handle Length: 139mm
Weight: 190grams
Hand Orientation: Ambidextrous 


About Bernal Cutlery
We are a full-service cutlery shop offering sharpening services, Japanese and Western culinary knives, vintage knives, outdoor, pocket and craft knives, cooking tools and accessories. We also offer knife skills and sharpening classes, and more.
We are proud to serve kitchen professionals, knife enthusiasts and home cooks alike. Located in the Mission District of San Francisco, California.