Last ordering day for Dec 25th arrival is Friday Dec 15th. Orders placed after this day may not arrive in time (per USPS). We are unable to offer expedited shipping.
Questions about Sharpening Services? Click here.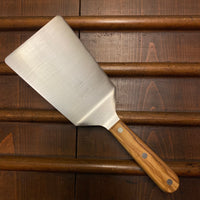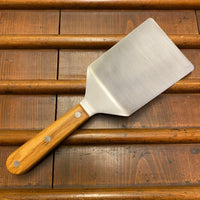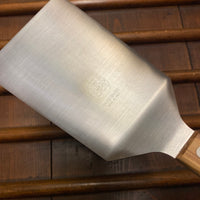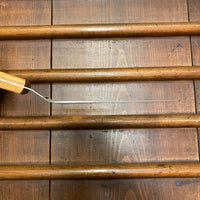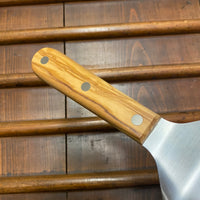 Due Buoi Wide Spatula - Olive
Regular Price

$54.00

Sale Price

$54.00

Regular Price

Unit Price

/

per
The stainless steel Wide Grill Spatula with wooden handle is designed to cook large quantities of food on a grill or griddle. Its large, inflexible head and offset handle make it easy to turn and transfer various kinds of foods such as steaks, fries and burgers, and serve up casseroles as deep as lasagna.
The natural Italian olive wood handle from Tuscany made from solid wood completes the stainless steel spatula with an elegant and timeless touch. The wooden handle is untreated and is not coated with any paint. Even if there are paints on the market that can come into contact with food, our choice is to keep the natural wood. By using your spatula, day after day, the wood will change color and your spatula will become more and more unique.
Manufactured with the utmost attention to detail and quality, this spatula for grilling is another example of fine Italian craftsmanship in bladesmithing.
Blade thickness: 1.1 mm (0.04 in)
Blade length: 16 cm (6.30 in)
Blade width: 10 cm (3.94 in)
Overall size: 27.6 cm(10.87 in)
Weight: 165 gr (5.78 oz)
About Bernal Cutlery
We are a full-service cutlery shop offering sharpening services, Japanese and Western culinary knives, vintage knives, outdoor, pocket and craft knives, cooking tools and accessories. We also offer knife skills and sharpening classes, and more.
We are proud to serve kitchen professionals, knife enthusiasts and home cooks alike. Located in the Mission District of San Francisco, California.