Last ordering day for Dec 25th arrival is Friday Dec 15th. Orders placed after this day may not arrive in time (per USPS). We are unable to offer expedited shipping.
Questions about Sharpening Services? Click here.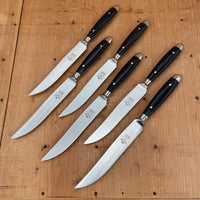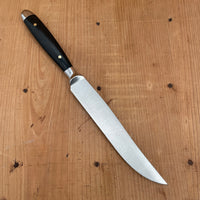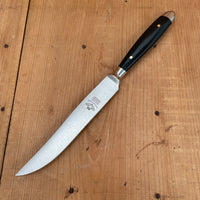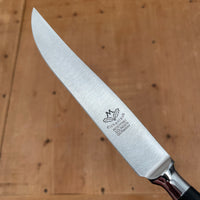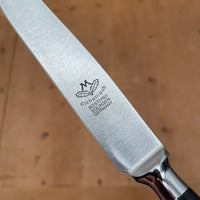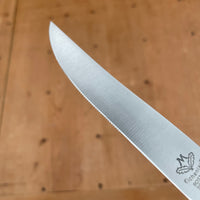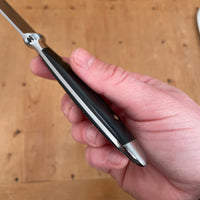 Eichenlaub Forged Tableware - Steak Knife Table Length- PaperStone Polished- Set of 6
Regular Price

$578.00

Sale Price

$578.00

Regular Price

Unit Price

/

per
Six pieces of table length forged steak knives in Paperstone Polished. Knives pictured are sold as a complete set and come with a box.
Since 1910, the Eichenlaub brand has represented the finest quality of forged table cutlery from Solingen, Germany. In 1998, the Robert Herder Company (Windmühlenmesser) bought the brand and has been meticulously producing them in their factory.
From the forging to the final polishing procedures and finish work, there are 122 working steps that must be taken to produce each handworked piece. The tines of each fork are meticulously tapered, and the details in and riveting and polishing the handle are top notch.
Eichenlaub tableware is not dishwasher safe and should never soak; these knives are not guaranteed against mistreatment. Warm soap and water should be used for cleaning, and an appropriate oil may be used on wooden handles if they become dehydrated.
About Bernal Cutlery
We are a full-service cutlery shop offering sharpening services, Japanese and Western culinary knives, vintage knives, outdoor, pocket and craft knives, cooking tools and accessories. We also offer knife skills and sharpening classes, and more.
We are proud to serve kitchen professionals, knife enthusiasts and home cooks alike. Located in the Mission District of San Francisco, California.