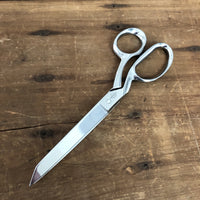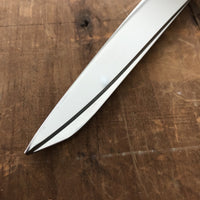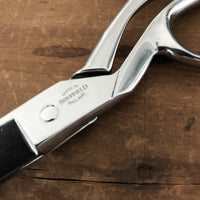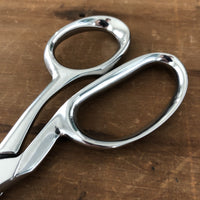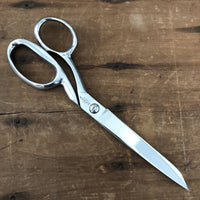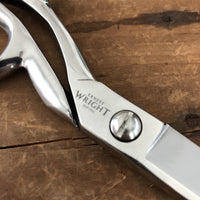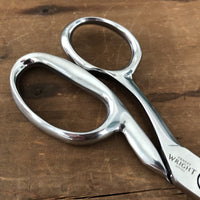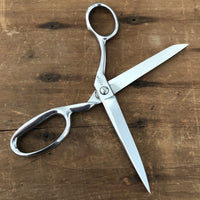 Ernest Wright 8.25" Dressmaker Shears - Carbon Steel
Regular Price

$132.00

Sale Price

$132.00

Regular Price

Unit Price

/

per
Like all Ernest Wright scissors and shears, the 8.25″ Dressmaker shears begin as two solid bars of carbon steel. Through the traditional process of hot forging, a bar is converted into a blank before our masterputtertogetherers get to work. The die for the 8.25″ is an old Sheffield pattern unearthed and revitalised. Made to order, these unique scissors will never let you down.
Lightweight and capable, these versatile scissors are perfect for cutting through textiles and tough fabric (canvas, rope, carpet, rubber), making them fit for both professional and daily tasks.
Once scissors have been forged and hardened, the surface of the handles is very rough, with burrs and scales. To make scissors pleasant to hold when in constant use, and as thumb and forefinger produce pressure for cutting, scissor handles require special processing.

Very often, the burrs are simply covered with a thick layer of paint. This process inadequately tries to avoid an old but very elaborate technique, namely that of flexible grinding which is the basic requirement for really smooth handles. In flexible grinding, scissor handles are precision-ground with the help of a large number of grinding discs and belts, differing in shape, hardness and grinding agent. Different tools are required for the various curves in the scissors' handles. The insides of the handles are processed by stringing them on a grinding belt. Then the belt is placed on a moving roller and the handles are processed by being turned and guided.

This is a technique requiring great skill and experience and used to be an accepted part of processing scissors of professional quality. Right up until the Seventies, flexible grinding was a skilled occupation in Britain. Our craftsmen still use this technique to deliver the best possible scissors and shears.
Founded by the Wright family in 1902, five generations have worked to manufacture precise scissors and shears in Sheffield England. Handmade and assembled by a small team of forgers, grinders, polishers and "putter-togetherers," Ernest Wright scissors and shears are beautiful and precisely functioning tools.

DETAILS
Type: Dressmaker shears / Tailor shears
Use: Tailors and dressmakers, cutting fabric
Total length: 8.25″ / 21 cm
Blade length: 3.75″ / 9.5 cm
Weight: 180 g
Material: Drop forged high quality carbon steel,
for long-life precision edge retention
Finish: Hand polished
Packaging: High Quality presentation box
About Bernal Cutlery
We are a full-service cutlery shop offering sharpening services, Japanese and Western culinary knives, vintage knives, outdoor, pocket and craft knives, cooking tools and accessories. We also offer knife skills and sharpening classes, and more.
We are proud to serve kitchen professionals, knife enthusiasts and home cooks alike. Located in the Mission District of San Francisco, California.