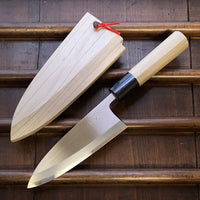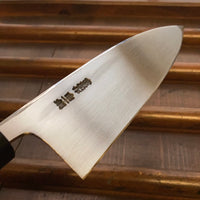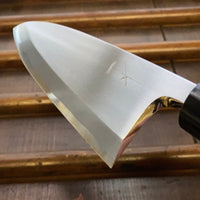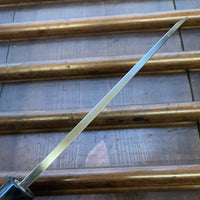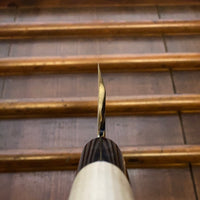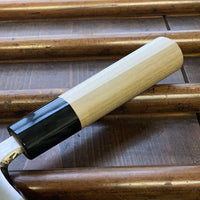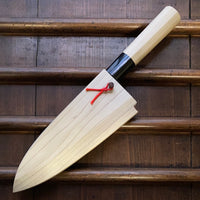 Hitohira Togashi 150mm Deba Shirogami 1 Tachi Ho Wood with Saya - LEFTY
Regular Price

$375.00

Sale Price

$375.00

Regular Price

Unit Price

/

per
Hand made in Sakai, iron clad shirogami #1 forged by dentoukougeishi master smith Kenji Togashi and expertly ground by his son Kenya. Shirogami 1 has both great edge formation and a longer lived edge life than the more commonly found shirogami 2. Togashi-san is famous for his shirogami 1 for good reason.
These are ground with a fine flat kireba, for users that are somewhat newer to using a deba (under 5 years experience) adding some curvature to the main bevel will help to strengthen it.
The finish grind on these is a tachi-togi or hairline finish, this helps to blend out scratches from a rust eraser in the future if it needs a little clean up.
Brand: Hitohira ひとひら (一片)
Smith: Togashi Blacksmith 富樫打刃物製作所
Producing Area: Sakai-Osaka/ Japan
Profile: Deba
Size: 150mm
Steel Type: Carbon Steel
Steel: Yasuki White (Shirogami) #1, Soft Iron Clad
Handle: Ho Wood & Buffalo Horn Ferrule D-Shape
Come with Saya
Total Length: 293mm
Edge Length: 156mm
Handle to Tip Length: 172mm
Blade Height: 47mm
Thickness: 5mm
Handle Length: 120mm
Weight: 195g
Hand Orientation: Left-Handed
Sharpener: Kenya Togashi
About Bernal Cutlery
We are a full-service cutlery shop offering sharpening services, Japanese and Western culinary knives, vintage knives, outdoor, pocket and craft knives, cooking tools and accessories. We also offer knife skills and sharpening classes, and more.
We are proud to serve kitchen professionals, knife enthusiasts and home cooks alike. Located in the Mission District of San Francisco, California.