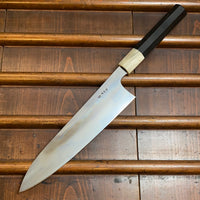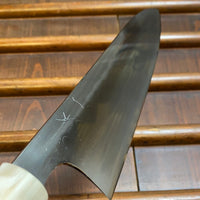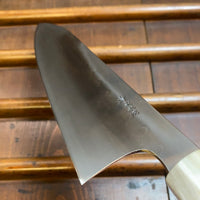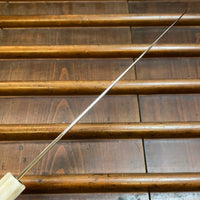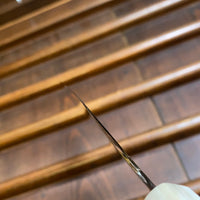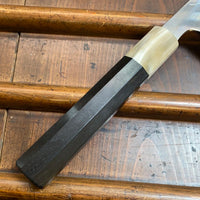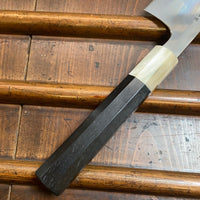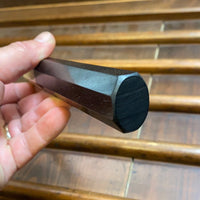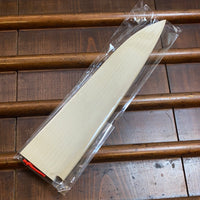 Hitohira Togashi Yohei 240mm Gyuto Aogami 2 Mizu Honyaki Taihei Ebony W Saya
Regular Price

$2,025.00

Sale Price

$2,025.00

Regular Price

Unit Price

/

per
Mizu Honyaki hand forged aogami 2 quenched in water, the most difficult style of quenching, even among the most skilled smiths there is a high failure rate with this rapid quenching of solid, non-clad steel. Forged in Sakai by dentoukougeishi smith Kenji Togashi.

The wavy hamon line created at the boundary of the thicker clay coating on the spine half of the blade where the harder edge starts is often less pronounced on aogami steel.
These knives demand skilled use and will not tolerate mistreatment. For instance, smashing garlic with the side, hacking at hard items or dropping the knife will most likely break it. For that reason these are not guaranteed against breakage.
This is a reactive carbon steel. It should be mentioned that extra care is required, as the knife is not stainless and should be dried immediately after use. It will develop a dark patina with usage, but any orange rust should be removed with a light abrasive.
These knifes come from the maker with lacquer on the blade for corrosion protection during shipping. It can be removed using acetone or lacquer thinner (follow manufacturers instructions for use).
Enter "Please remove lacquer" in the +Special Instructions on the Cart page if you would like to have this lacquer removed prior to shipping. This could delay shipping by up to 5 days.
Brand: Hitohira ひとひら (一片)
Smith: Togashi Blacksmith 富樫打刃物製作所
Producing Area: Sakai-Osaka/ Japan
Profile: Gyuto
Size: 240mm
Steel Type: Carbon Steel
Steel: Honyaki Yasuki White (Shirogami) #1
Handle: Persimmon & Horn Ferrule
Come with Saya
Total Length: 387mm
Edge Length: 221mm
Handle to Tip Length: 242mm
Blade Height: 51mm
Thickness: 2.7mm
Handle Length: 145mm
Weight: 171.8g
Hand Orientation: Ambidextrous
Sharpener: Yohei

About Bernal Cutlery
We are a full-service cutlery shop offering sharpening services, Japanese and Western culinary knives, vintage knives, outdoor, pocket and craft knives, cooking tools and accessories. We also offer knife skills and sharpening classes, and more.
We are proud to serve kitchen professionals, knife enthusiasts and home cooks alike. Located in the Mission District of San Francisco, California.