Last ordering day for Dec 25th arrival is Friday Dec 15th. Orders placed after this day may not arrive in time (per USPS). We are unable to offer expedited shipping.
Questions about Sharpening Services? Click here.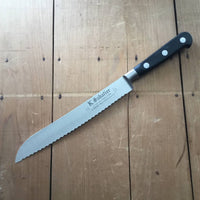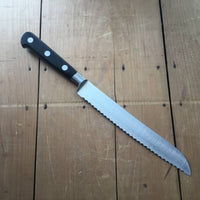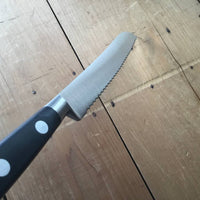 K Sabatier Authentique 8" Bread Knife Stainless
Regular Price

$78.00

Sale Price

$78.00

Regular Price

Unit Price

/

per
K Sabatier Authentique stainless series knives are forged from Z50C13 and tempered to 54-56 HRC; soft when compared to Japanese knives, but still with good edge life. These traditional style French stainless steel knives have a great toughness and are super easy to sharpen.

No dishwasher.

Please note, these can have cosmetic scratches or small imperfections in handles which will not impede the performance of the knife. This is par for the course on these knives and is part of how they sell them for a very reasonable price.

These knives are made in Thiers, France at the Aine & Perrier Sabatier works. Aine & Perrier Sabatier (aka K Sabatier) has remained a family run business since its inception in the 1830's. The registered K trademark was recorded in 1834, making them arguably the oldest of the many Sabatier companies.
Brand: K Sabatier
Producing Area: Thiers, France
Profile: Bread
Size: 8in
Blade Type: Stainless Steel
Steel Type: Z50C13
Handle: POM
Total Length: 13in
Handle Length: 4.75in
Handle to Tip Length: 8.25in
Blade Height: 1in
Edge Length: 8in
Thickness: 0.103in
Weight: 5.4oz
Hand Orientation: Ambidextrous
Sleeve: Dexter Russell 8" Narrow Knife Guard
HRC: 54-56 
About Bernal Cutlery
We are a full-service cutlery shop offering sharpening services, Japanese and Western culinary knives, vintage knives, outdoor, pocket and craft knives, cooking tools and accessories. We also offer knife skills and sharpening classes, and more.
We are proud to serve kitchen professionals, knife enthusiasts and home cooks alike. Located in the Mission District of San Francisco, California.