Last ordering day for Dec 25th arrival is Friday Dec 15th. Orders placed after this day may not arrive in time (per USPS). We are unable to offer expedited shipping.
Questions about Sharpening Services? Click here.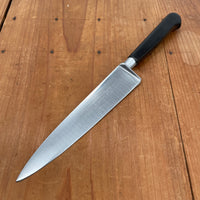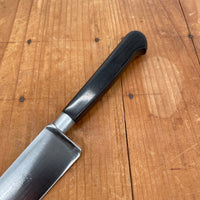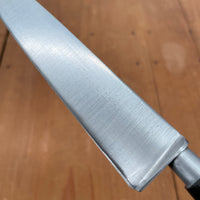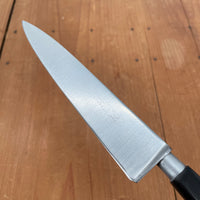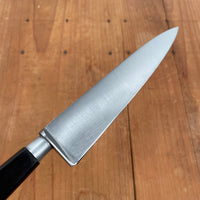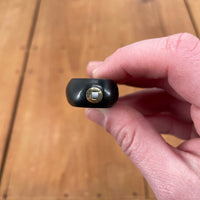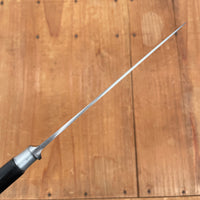 K Sabatier New Vintage 6" Chef 'Nogent / Cuisine Massive' Carbon Steel Ebony
Regular Price

$118.00

Sale Price

$118.00

Regular Price

Unit Price

/

per
Nogent style knives are characterized by their one piece wood handles, with a rat tail stick tang extending to the end of the handle and a round steel or aluminum ferrule. 'Cuisine Massive' was used to describe the style in Thiers, as Nogent was a rival knife making city.
These blades were made in Theirs, France in the 1950s. They are thin and light being hand forged on an old style 'Martinet' mechanical hammer and then ground by hand on stone wheels, very similarly to how knives were made in the 19th and early 20th century, these techniques and equipment are now long gone.
They are lighter and springier than their modern contemporaries with great cutting feel and are super easy to sharpen, don't over-polish them with fine Japanese stones, these do better with a coarser edge (equivalent to 1000 Japanese grit stone) and kept up with a fine honing steel. The advice to use a steel before you use your knife is the result of these kind of knives in a busy professional kitchen; steel them once you feel the edge starting to lean to one side.
Being handmade there are slight differences between knives and they may have slight imperfections that would be consistent with handmade knives of their day such as a slight waviness in edge and small bends, there can also be imperfections in small gaps in handle etc. They are not 'perfect' by strict standards but are still great knives.
Since 1834, K Sabatier has been the dedicated brand of Sabatier Aine & Perrier, a family cutlery business started by Bonnet Sabatier in the early 1800's. The business has been passed down 8 generations, and has remained located in the hills of Thiers, France in the village of Bellevue. They continue to run their company with pride and precision, keeping all aspects of the manufacturing process within the area of Thiers
Brand:
 K Sabatier 
Producing Area:
 Theirs, France
Profile:
 Chef 
Size:
 6"
Steel Type:
 Carbon Steel
Handle:
 Ebony
Total Length:
 10"
Handle Length: 4 1/8"
Handle to Tip Length: 5 7/8"
Blade Height:1 1/8"
Edge Length: 5 3/4"
Thickness:
 .1"
Weight:
 2oz
Hand Orientation: Ambidextrous
About Bernal Cutlery
We are a full-service cutlery shop offering sharpening services, Japanese and Western culinary knives, vintage knives, outdoor, pocket and craft knives, cooking tools and accessories. We also offer knife skills and sharpening classes, and more.
We are proud to serve kitchen professionals, knife enthusiasts and home cooks alike. Located in the Mission District of San Francisco, California.