Last ordering day for Dec 25th arrival is Friday Dec 15th. Orders placed after this day may not arrive in time (per USPS). We are unable to offer expedited shipping.
Questions about Sharpening Services? Click here.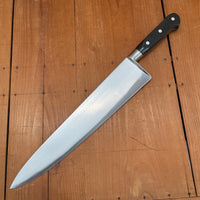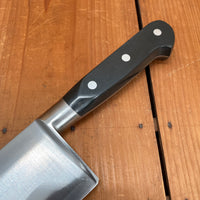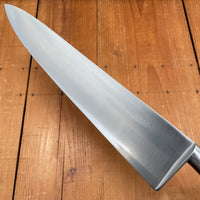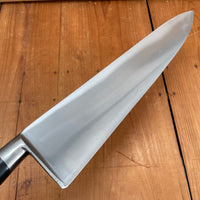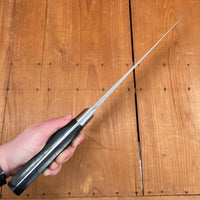 K Sabatier New Vintage Authentique 13" Chef Carbon POM
Regular Price

$238.00

Sale Price

$238.00

Regular Price

$0.00

Unit Price

/

per
New old stock 13" carbon steel chef knives from the K Sabatier vault!  These knives were forged in the the 50s-60s and have never been used.
They were hand forged after being drop forged and hand ground on water stones in the old Thiers style.  This lends to giving them a great geometry, making them nimble where they need to be and tough in the heel. These are the quintessential post war French chef knife.
Since 1834, K Sabatier has been the dedicated brand of Sabatier Aine & Perrier, a family cutlery business started by Philippe Sabatier in the early 1800's. The business has been passed down 8 generations, and has remained located in the hills of Thiers, France in the village of Bellevue. They continue to run their company with pride and precision, keeping all aspects of the manufacturing process within the area of Thiers.
Brand: K Sabatier
Producing Area: Thiers, France
Profile: Chef
Size: 13"
Steel Type: Carbon
Handle: POM
Total Length: 17in
Edge Length: 13.5in
Handle to Tip Length: 13.25in
Blade Height: 2.5in
Thickness: 0.3in
Handle Length: 5.75in
Weight: 18.2oz
Hand Orientation: Ambidextrous

About Bernal Cutlery
We are a full-service cutlery shop offering sharpening services, Japanese and Western culinary knives, vintage knives, outdoor, pocket and craft knives, cooking tools and accessories. We also offer knife skills and sharpening classes, and more.
We are proud to serve kitchen professionals, knife enthusiasts and home cooks alike. Located in the Mission District of San Francisco, California.