Our storefront will be closed Monday 9/25 in observance of Yom Kippur.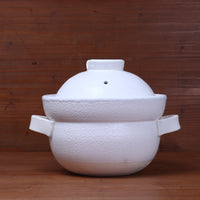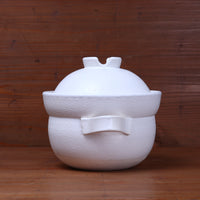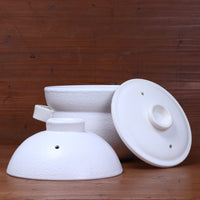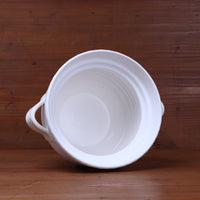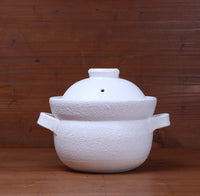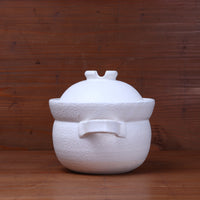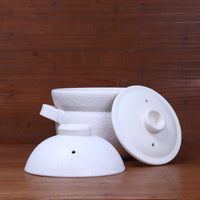 Limited Edition Daikoku Banko Ware Rice Donabe - White Fog
Regular Price

$258.00

Sale Price

$258.00

Regular Price

Unit Price

/

per
Three-piece rice cooking donabe includes inner lid, outer lid, and pot.
This White Fog edition is exclusive to Bernal Cutlery-- not even sold in Japan due to the difficulty in producing this edition in large quantities.
In addition to the qualities of a Daikoku rice donate described below, the White Fog edition has higher heat conductivity due to the inclusion of minerals in addition to clay, making it more responsive if the chef desires to adjust the heat. (Traditional donabes made only from clay will remain hot once it is hot, even if one turns down the flame).
The White Fog edition also has thinner walls than the standard Black Daikoku Banko Rice Donabe, with a craftsman shaving it by hand.
At Bernal Cutlery we also call this the "Naomi Watanabe" Rice Donabe as she is the only person outside of Bernal Cutlery customers who owns one in the world! (Naomi is a megastar--if you don't know her, look her up!)
These rice cooking donabe are the most versatile donabe styles. Aside from cooking rice, they can be used to cook porridge, stews, soups, and other gohanmono (seasoned rice dishes). Unlike other donabe, which need to be gradually introduced to even heat (to prevent cracking), Daikoku donabe can be transferred directly from the refrigerator to the stovetop.
Banko ware rice donabe are measured in Japanese gou. We offer a 1-gou rice measuring cup .

1 gou = 180ml or ¾ of a US Cup
For sizing, specs, and measurements of white vs. brown rice, or if you are unfamiliar with using donabe, please reference our Donabe: Use and Care page.
Banko ware aka Banko Yaki (萬古焼)or Yokkaichi Banko Yaki is a heat resistant earthenware that has been made in Mie prefecture since the 18th century. It represents the majority of stoneware for cooking produced in Japan and is officially recognized as a traditional Japanese craft. Petalite is added to the clay to give Banko ware excellent heat resistance and allows it to be exposed to direct flame.
When cooking in Banko ware pots, a far infrared wavelength is created which makes for more efficient cooking than direct surface conducted heating. Banko ware can be used on gas range tops, inside an oven and for brief re-heatings microwave ovens. Banko ware is not suitable for electric range tops (electric oven is ok), no deep frying or use on induction burners.
Not eligible for free domestic shipping.
About Bernal Cutlery
We are a full-service cutlery shop offering sharpening services, Japanese and Western culinary knives, vintage knives, outdoor, pocket and craft knives, cooking tools and accessories. We also offer knife skills and sharpening classes, and more.
We are proud to serve kitchen professionals, knife enthusiasts and home cooks alike. Located in the Mission District of San Francisco, California.