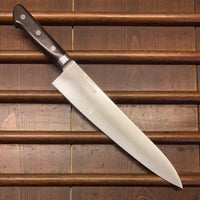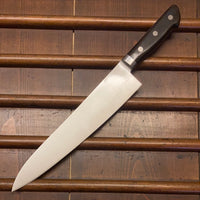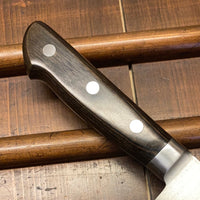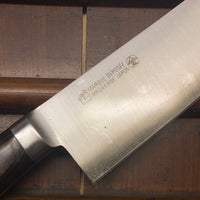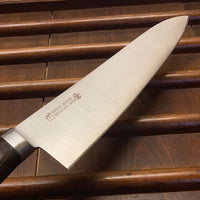 Masakane New Vintage 270mm Gyuto SK Carbon Steel Pakka Handle
Regular Price

$138.00

Sale Price

$138.00

Regular Price

Unit Price

/

per
New old stock SK Kanto style carbon steel gyuto from Masakane. Thin light springy hand ground blades sharpen super easily and cut very well. Pakka handles have exposed tang along the spine of tang and are smooth inside where the fingers wrap around.
These are from their later production in Seki from around the 1990's but still have the fine grinds that the older ones had. The one piece wood handles are really nice and the round bolsters have a great feel.
*Please note, these are old knives, small rust spots or imperfections in the handles are possible and are not considered defects for return*
I have been hoarding whatever used vintage ones that come my way every blue moon. They were THE maker synonymous with gyuto for many years. When researching gyuto history for our book Sharp, Ashi-san had some interesting bits of information on Masakane because he vistied their old factory in Gondazaka (after the Yokohama factory that older ones are marked with) when he was beginning his work in the 1960's.
Masakane knives share a lineage of the first Japanese blacksmiths who traveled to the west to learn Western knife making techniques that inspired gyuto making during the Meiji era.
These Masakane represent the tail end of the most important gyuto maker of the mid 20th century.
Thin SK mono-steel blades cut very nicely with their thin profile and are super easy to sharpen and get a nice edge that holds well. They are ideal for the professional or home cook who is looking for a great workhorse with easy sharpen-ability.
Sometimes, SK family steels are viewed as inferior to more refined Japanese carbon steels like shirogami or aogami. However, when making single steel knives, SK has its advantages. SK steel rusts slower than many other carbon steels and has a good toughness, which benefits a thin mono steel knife.
This is a non-stainless carbon steel, it should be mentioned that extra care is required, it should be washed and dried immediately after use. It will develop a dark patina with usage, but any orange rust should be removed with a light abrasive.
Brand: Masakane 源正金
Producing Area: Seki-Gifu/ Japan
Profile: Gyuto
Size: 270mm
Steel Type: Carbon Steel
Steel: Mono SK High Carbon
Handle: Pakka Western
Total Length: 406mm
Edge Length: 274mm
Handle to Tip Length: 276mm
Blade Height: 52mm
Thickness: 2.4mm
Handle Length: 130mm
Weight: 271g
Hand Orientation: Right-Handed
About Bernal Cutlery
We are a full-service cutlery shop offering sharpening services, Japanese and Western culinary knives, vintage knives, outdoor, pocket and craft knives, cooking tools and accessories. We also offer knife skills and sharpening classes, and more.
We are proud to serve kitchen professionals, knife enthusiasts and home cooks alike. Located in the Mission District of San Francisco, California.