Last ordering day for Dec 25th arrival is Friday Dec 15th. Orders placed after this day may not arrive in time (per USPS). We are unable to offer expedited shipping.
Questions about Sharpening Services? Click here.
Home
|
Kitchen Tools
|
Old English Fiddle Dessert Spoon Stainless Yorkshire Rose Tumbled Fini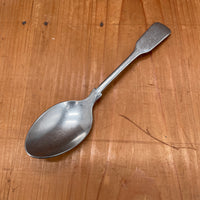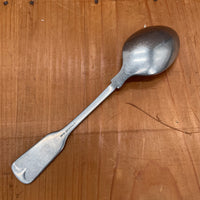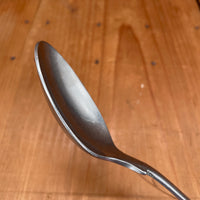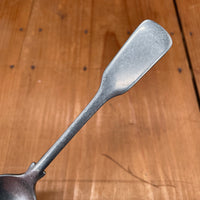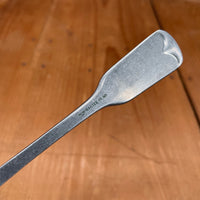 Old English Fiddle Dessert Spoon Stainless Yorkshire Rose Tumbled Finish
Regular Price

$20.00

Sale Price

$20.00

Regular Price

Unit Price

/

per
Made in Sheffield England by the W. Wright company in stainless steel.  This tableware is able to withstand the rigors of a busy restaurant or hotel dining room without sacrificing a graceful feel in hand.  This is true during eating as well, highlighting the intentional balance that keeps them from easily pitching off a plate. The tumbled finish provides a nice smooth texture and will keep scratches from standing out.  

The Old English Fiddle back flatware pattern with its distinctive shoulders on the stems has its origin in the 1700's. This was a very popular design in the 19th century, arguably becoming the most iconic British flatware pattern. 

The William Wright company has its origins with Mrs. Beatrice 'Beattie' France, who began working in Sheffield at age 13 as an errand girl.  She was promoted to 'buffer girl' polishing table cutlery and eventually ran the Sidney St workshop as a little mester- a role she held until she was 85. Beattie passed along the workshop to her son William Wright after WW1, and the W. Wright company was born. In 1987, William's son Stephen Wright took the reins of the company and has been applying his father and grandmother's skills supplying tableware for restaurants, hotels and households all over the world.
Brand: W Wright
Producing Area: Sheffield, England
Profile: Dessert Spoon 
Steel Type: Stainless Steel
Total Length: 179mm
Handle Length: 100mm
Bowl Length: 63mm
Bowl Width: 41mm
Bowl Depth: 10mm
Thickness: 2mm
Weight: 57g
About Bernal Cutlery
We are a full-service cutlery shop offering sharpening services, Japanese and Western culinary knives, vintage knives, outdoor, pocket and craft knives, cooking tools and accessories. We also offer knife skills and sharpening classes, and more.
We are proud to serve kitchen professionals, knife enthusiasts and home cooks alike. Located in the Mission District of San Francisco, California.