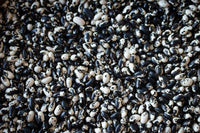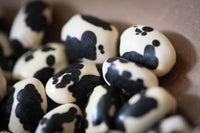 Rancho Gordo Vaquero Beans - 1lb
Regular Price

$8.00

Sale Price

$8.00

Regular Price

Unit Price

/

per
A classic chili bean that holds its shape through long, slow, cooking and exudes a generous, dark, rich broth.

A really lovely cousin to the Anasazi bean, Vaquero have intriguing black and white markings. The flavor is somewhat like the Anasazi but it's a little lighter. The real fun is the inky, black pot liquor. It looks cool and tastes great.

Vaqueros are what we suggest when customers are looking for Anasazi beans (which we don't grow). They are light and just slightly potato-like but they keep their shape and would be one of our first choices for a chili bean. We also enjoy them as a classic charro bean, cooked simply and then finished with bacon, tomatoes and maybe a little stale beer.
Suggestions: Chili, salads, soups, casseroles, dips, pot beans

Vaqueros are also known as Orca beans but so are several other beans. Vaquero really look like horses more than whales!

Ingredients: Vaquero Beans
16oz bag
Steve Sando founded Rancho Gordo on the idea that saving our New World foods is a critical pursuit; passion for heirloom beans has made this business a huge success. Sando's beans are sought after by famous chefs like Thomas Keller and he's frequently profiled in publications such as Bon Appetit, Saveur, and the New York Times. In reintroducing the best of the New World heirloom beans, Sando has created a sensation, and food-lovers everywhere will relish transforming this humble staple into a celebrated delicacy.
Photos by Steve Sando
About Bernal Cutlery
We are a full-service cutlery shop offering sharpening services, Japanese and Western culinary knives, vintage knives, outdoor, pocket and craft knives, cooking tools and accessories. We also offer knife skills and sharpening classes, and more.
We are proud to serve kitchen professionals, knife enthusiasts and home cooks alike. Located in the Mission District of San Francisco, California.