Last ordering day for Dec 25th arrival is Friday Dec 15th. Orders placed after this day may not arrive in time (per USPS). We are unable to offer expedited shipping.
Questions about Sharpening Services? Click here.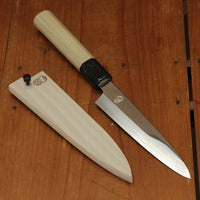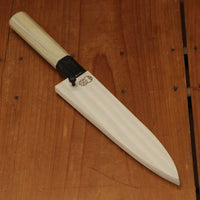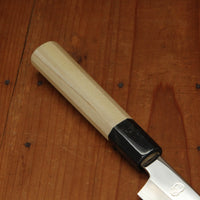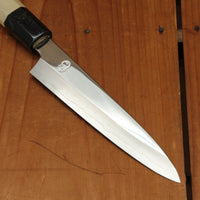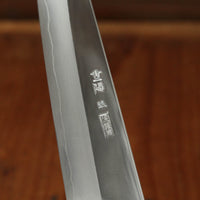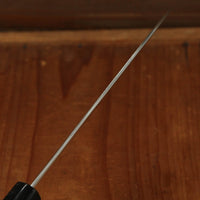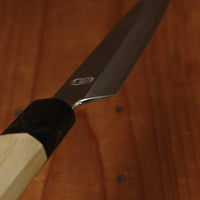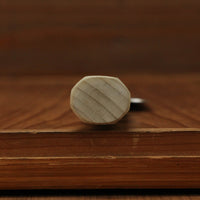 Sakai Kikumori Choyo 150mm Petty Ginsanko with Saya
Regular Price

$458.00

Sale Price

$458.00

Regular Price

Unit Price

/

per
Sakai Kikumori 'Choyo' 150mm Petty. Double bevel ginsanko stainless core with mirror polish stainless cladding. Octagonal magnolia wood and water buffalo ferrule handle. Comes with saya.
The double bevel knives from this series cut nearly effortlessly with an authoritative solid feel. These knives are, however, ground very thin behind the edge and will not tolerate mistreatment.
Ginsanko is a fine grained, high carbon content (1% + carbon), low chromium (13%) stainless steel. It has the cutting and sharpening feel of a carbon steel but is less reactive and, as such, lower maintenance. These knives are ideal for those looking for a Japanese knife that's easy to sharpen and also rust-resistant.
Choyo series knives represent some of the best of Sakai's knife making. They are made by craftspeople who are highly respected for preserving demanding traditional techniques while contributing their own refinements and creativity to the trade.
The ginsanko knives in the Choyo series are forged by Nakagawa Hamono (previously Shiraki Hamono). Nakagawa-san's top level forging and heat treatments make for an exceptional ease of sharpening and superb edge life.
Choyo knives are ground and polished by Morihiro Hamono. Morihiro-san's grinding is superb; he pioneered this low-kiriba grind on wa-gyuto. His work on the Choyo series is characterized by even, wide bevels, a chamfered spine and brilliant mirror polish.
Sakai Kikumori was started in 1926 and draws on Sakai's 600 year history as the major center of traditional Japanese cutlery manufacturing. They work with a large variety of Sakai's best smiths, sharpeners and small factories to offer a wide variety of knives ranging from traditional to modern.
Hand wash and dry before storing. Do not leave wet and do not use a dishwasher. Rust can be removed with a light abrasive.
Hardwood-end grain or softwood long grain cutting boards are preferred. Avoid bamboo and plastic cutting boards.
Brand: Sakai Kikumori
Smith: Nakagawa Hamono
Sharpener: Morihiro Hamono
Producing Area: Sakai, Japan
Profile: Petty
Size: 150mm
Blade Type: Stainless Steel
Steel Type: Ginsanko
Handle: Magnolia Wood and Water Buffalo Ferrule
Total Length: 285mm
Handle Length: 122mm
Handle to Tip Length: 155mm
Blade Height:27mm
Edge Length: 140mm
Thickness: 2.30mm
Weight: 168g
Hand Orientation: Ambidextrous
Saya: Ho Wood
HRC: 59-61
*Actual weights and measurements may vary piece to piece
About Bernal Cutlery
We are a full-service cutlery shop offering sharpening services, Japanese and Western culinary knives, vintage knives, outdoor, pocket and craft knives, cooking tools and accessories. We also offer knife skills and sharpening classes, and more.
We are proud to serve kitchen professionals, knife enthusiasts and home cooks alike. Located in the Mission District of San Francisco, California.