Last ordering day for Dec 25th arrival is Friday Dec 15th. Orders placed after this day may not arrive in time (per USPS). We are unable to offer expedited shipping.
Questions about Sharpening Services? Click here.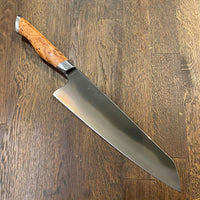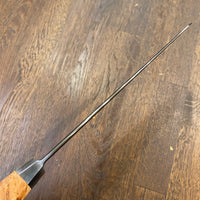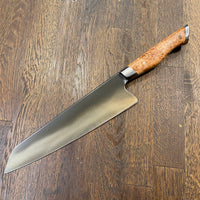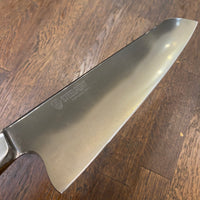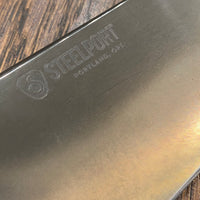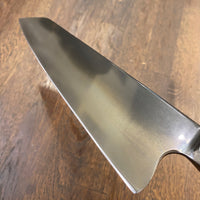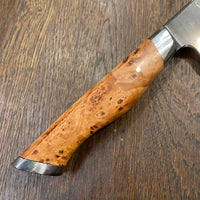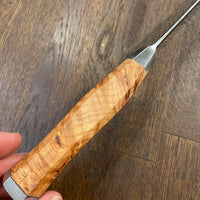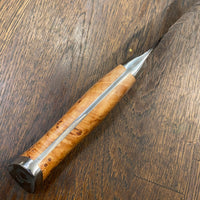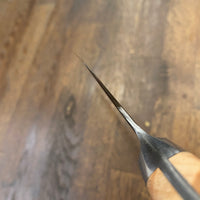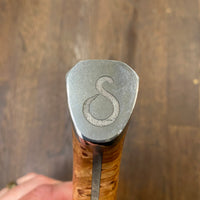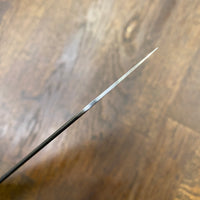 Steelport 8" Chef Knife 52100 Carbon Steel Stabilized Maple
Regular Price

$400.00

Sale Price

$400.00

Regular Price

Unit Price

/

per
Steelport 8" Chef Knife 52100 Carbon Steel Stabilized Maple
Steelport knives are made in Portland Oregon, USA by Eytan Zias and a highly specialized group of individuals who collaborated in 2020 to bring back the drop forged hand finished American carbon steel knife, albeit in an upgraded form.
First the blade, bolster, tang and pommel are formed in a drop forge, the historical driver of fine American industrial cutlery that has largely disappeared from American cutlery. Next a proprietary 8 stage heat treatment with both oil quenching and air cooling finished by a cryogenic treatment in liquid nitrogen is done one knife at a time. The edge half of the blade is hardened to 65 HRC with the spine and handle being under 40 HRC. The blade is convex ground and polished with heel and spine ground with eased edges, and after an etch in coffee the knife is completed with a stabilized Oregon bigleaf maple handle. Each knife is unique in both the pattern of the maple burl and the banding in the grain of the steel visible from the coffee etch.
After testing the Steelport 8" chef, we found it has the more robust weight and balance of a Western chef knife with excellent performance. It's an easy, punchy feeling knife with a smooth cutting feel with good food release from it's convex face. This knife was very easy to sharpen and worked well with a wide variety of finish types; from 3000 to 8000 grit (I thought 4-6K to be the sweet spot).
The smooth, dark patina is not rough and grabby on food and does not impede the cutting. It will change as the knife picks up a patina with use of course as it is not stainless, for this reason it must be wiped dry after use and never put in a dishwasher.

The edge has excellent edge life and toughness (capable of cutting hemp rope 100 times and also being able to cut a brass rod without chipping) while being easy to sharpen and maintain
Part of the Steelport process involves running them through a vibratory vat where the unfinished knives bump into each other and potentially leave marks on the soft spine half of the blade, this is not a defect and will blend into the working surface of these knives as they age.
Brand: Steelport
Producing Area: Portland, Oregon
Profile: Chef
Size: 8"
Steel Type: Carbon
Steel: 52100
Handle: Stabalized Maple Burl
Total Length: 340mm
Handle Length: 126mm
Blade Height: 53mm
Edge Length: 211mm
Thickness: 3mm
Weight: 224g
Hand Orientation: Ambidextrous
Saya: Magnetic Saya for Steelport 8" Chef
HRC: 65hrc (Edge)
-
About Bernal Cutlery
We are a full-service cutlery shop offering sharpening services, Japanese and Western culinary knives, vintage knives, outdoor, pocket and craft knives, cooking tools and accessories. We also offer knife skills and sharpening classes, and more.
We are proud to serve kitchen professionals, knife enthusiasts and home cooks alike. Located in the Mission District of San Francisco, California.