Last ordering day for Dec 25th arrival is Friday Dec 15th. Orders placed after this day may not arrive in time (per USPS). We are unable to offer expedited shipping.
Questions about Sharpening Services? Click here.
Home
|
Unknown Type
|
Takada no Hamono HH 210mm Gyuto Aogami 2 Ho Horn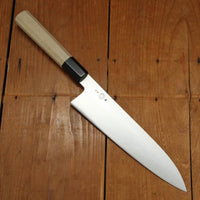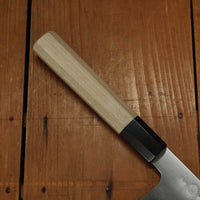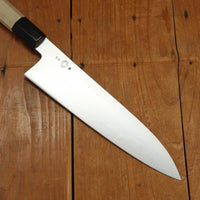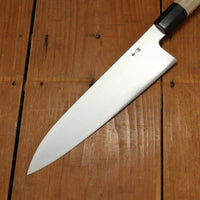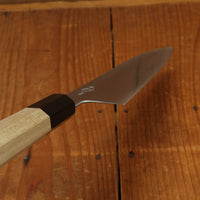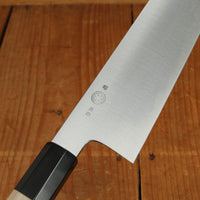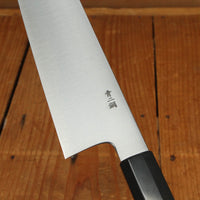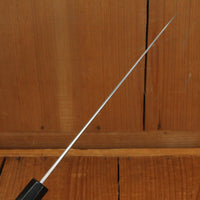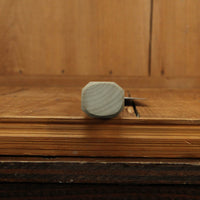 Takada no Hamono HH 210mm Gyuto Aogami 2 Ho Horn
Regular Price

$325.00

Sale Price

$325.00

Regular Price

Unit Price

/

per
Hand made stainless clad ginsanko stainless steel made in Sakai Osaka Japan, forged at Shiraki Hamono by the super talented young smith Nakagawa-san and hand ground and finish sharpened at the Takada no Hamono workshop. This ginsanko offers excellent edge life and can be finished similar to fine carbon steels like shirogami.

Mitsuaki Takada has spent many years as a grinder in Sakai and specializes in double bevel hamaguri style convex grinding. He worked for Ashi Hamono for many years, and is very skilled at grinding thin double bevel knives with excellent cutting feel.
Takada no Hamono opened in 2018, in the old style of a small wood frame house converted to a workshop, there are dozens of atelier like this in Sakai but Mitsuaki's is the first of it's kind to be opened in many, many decades.
Fine cutting with excellent edge life and edge formation, these represent an exciting new generation of Sakai craftsmen putting out top quality work. We are super excited to be working with Takada no Hamono.
Brand: Takada no Hamono
Smith: Nakagawa-san
Producing Area: Sakai Osaka Japan
Profile: Gyuto
Size: 210mm
Steel Type: Carbon Steel
Steel: Aogami 2 (*NOT Ginsanko)
Handle: Ho Wood Octagonal With Buffalo Horn
Total Length: 349mm
Handle Length: 149mm
Handle to Tip Length: 210mm
Blade Height: 48mm
Edge Length: 198mm
Thickness: 2.8mm
Weight: 111g
Hand Orientation: Ambidextrous 
Sharpener: Mitsuaki Takada
Saya:
HRC:
About Bernal Cutlery
We are a full-service cutlery shop offering sharpening services, Japanese and Western culinary knives, vintage knives, outdoor, pocket and craft knives, cooking tools and accessories. We also offer knife skills and sharpening classes, and more.
We are proud to serve kitchen professionals, knife enthusiasts and home cooks alike. Located in the Mission District of San Francisco, California.