Last ordering day for Dec 25th arrival is Friday Dec 15th. Orders placed after this day may not arrive in time (per USPS). We are unable to offer expedited shipping.
Questions about Sharpening Services? Click here.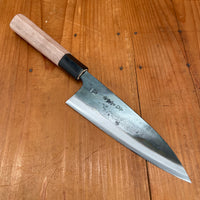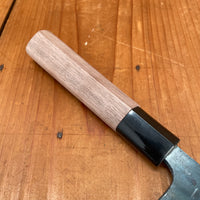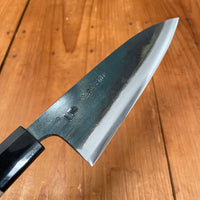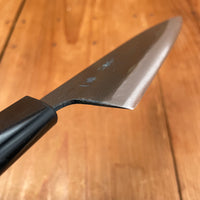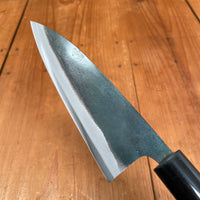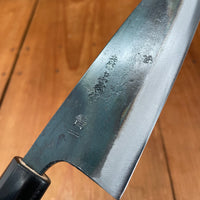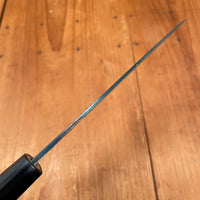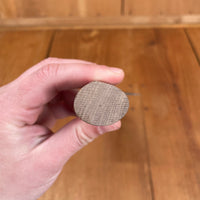 Tosa Tadayoshi 150mm Funayuki Aogami 1 Walnut/PC
Regular Price

$60.00

Sale Price

$60.00

Regular Price

Unit Price

/

per
Tosa Tadayoshi 150mm Funayuki Aogami 1 Walnut/PC
Hand forged knives from the Tosa area of Shikoku Island, Japan's least populated island with a long history of smithing. Shikoku's thick forests, agriculture and fisheries have led to a local style of smithing that is characterized by rustic free forged knives and tools. Many Tosa knives are ryoba style; forged and ground symmetrically and are suitable for both right and left hand users.
We have been very happy with the quality for the price and their old style country feel.
Funayuki are symmetrical ryoba ground san mai knives, forged and ground thin for vegetables and boneless proteins, analogous to a gyuto but a bit wider at the heel.
This is a reactive carbon steel. It should be mentioned that extra care is required, as the knife is not stainless and should be dried immediately after use. It will develop a dark patina with usage, but any orange rust should be removed with a light abrasive.
approx 100 grams 153mm cutting edge, 45mm wide at heel, tapering from 3mm thick, 295mm overall. Free forged knives vary slightly
About Bernal Cutlery
We are a full-service cutlery shop offering sharpening services, Japanese and Western culinary knives, vintage knives, outdoor, pocket and craft knives, cooking tools and accessories. We also offer knife skills and sharpening classes, and more.
We are proud to serve kitchen professionals, knife enthusiasts and home cooks alike. Located in the Mission District of San Francisco, California.