Last ordering day for Dec 25th arrival is Friday Dec 15th. Orders placed after this day may not arrive in time (per USPS). We are unable to offer expedited shipping.
Questions about Sharpening Services? Click here.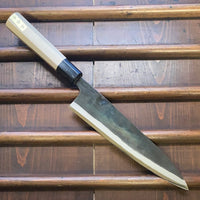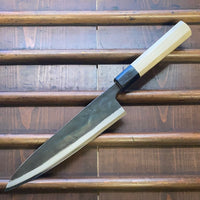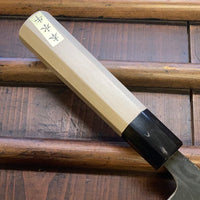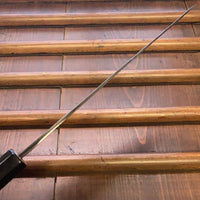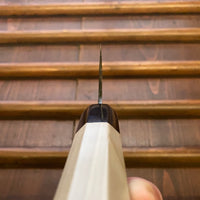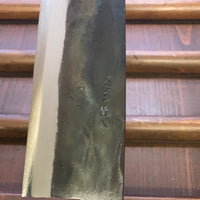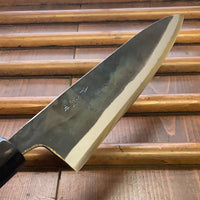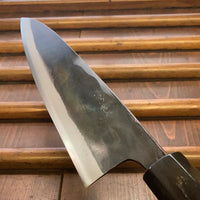 Tosa Tadayoshi / Bernal Cutlery 225mm Gyuto Aogami 1 Stainless Clad Oct Ho/Horn
Regular Price

$245.00

Sale Price

$245.00

Regular Price

Unit Price

/

per
Stainless clad aogami 1 gyuto forged by Tosa Tadayoshi to Bernal Cutlery specifications. This work horse hand forged gyuto is designed especially with a forward rocking push cut in mind for a mix of vegetable and boneless protein work. These have enough height at the heel to work well for those with larger hands but not so tall as to sacrifice control. The tip is designed to be in line with the inside of the handle to provide enough belly for a rocking push cut but also to provide good control for fine work at the tip and a bit of flat spot at the heel to provide fast contact.
The dark kurouchi finish from the forge is left on the hand forged surface of the cladding with a convex kireba primary bevel for toughness. For finer more precise work the kireba can be flattened or thinned with the original convex geometry for more toughness. By sharpening along the wide bevel and the fine active edge bevel the geometry can be controlled by the user to their needs.
Expect some rough corners or slight irregularities from knives forged to shape, the heel is a bit rough and there might be some stray grind marks at the shinogi line. Some of these 'imperfections' can be worked out, others are structural.
The core is carbon steel but the cladding stainless making it less reactive during use. It should be mentioned that care is still required required, as the core of the knife is not stainless and should be dried immediately after use. It will develop a dark patina with usage, but any orange rust should be removed through thinning or with a light abrasive.
Hand forged knives from the Tosa area of Shikoku Island, Japan's least populated island with a long history of smithing. Shikoku's thick forests, agriculture and fisheries have led to a local style of smithing that is characterized by rustic free forged knives and tools. Many Tosa knives are ryoba style; forged and ground symmetrically and are suitable for both right and left hand users.
These knifes come from the maker with lacquer on the blade for corrosion protection during shipping. It can be removed using lacquer thinner (follow manufacturers instructions for use).
We can remove the lacquer prior to shipping for $10. Enter "Please remove lacquer" in the +Special Instructions on the Cart page and you will be invoiced separately via email. This could delay shipping by up to 5 days and won't be shipped until payment is made.
| | |
| --- | --- |
| Steel Type | Aogami 1 Stainless Clad |
| Handle Material | Walnut/PC |
| Weight | 177.8grams |
| Height at Heel | 49mm |
| Overall Length | 386mm |
| Cutting Edge | 226mm |
| HRC | |
About Bernal Cutlery
We are a full-service cutlery shop offering sharpening services, Japanese and Western culinary knives, vintage knives, outdoor, pocket and craft knives, cooking tools and accessories. We also offer knife skills and sharpening classes, and more.
We are proud to serve kitchen professionals, knife enthusiasts and home cooks alike. Located in the Mission District of San Francisco, California.