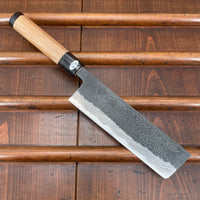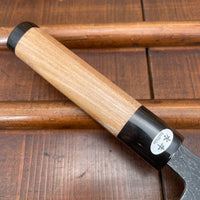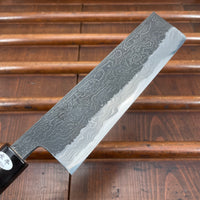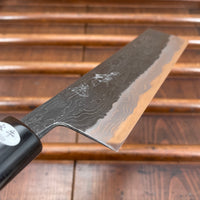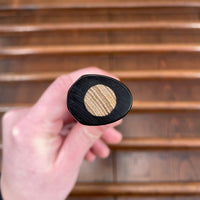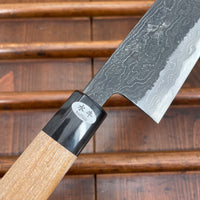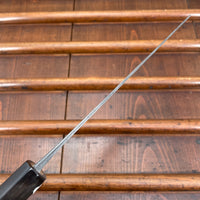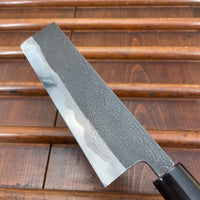 Tsukasa Hinoura Kitaeji 165mm Nakiri
Regular Price

$880.00

Sale Price

$880.00

Regular Price

Unit Price

/

per
Hinoura-San's 'Kitaeji' is hand-forged with a #2 shirogami, or white steel core, and a layered iron and mild steel cladding. Tsukasa Hinoura is famous for his heat treatments, coaxing incredible edge life and toughness out of the materials as well as creating mesmerizing patterns in his suminagashi damascus cladding.

Unlike the usual sandwiched layering of a hon kasumi knife, this series is made with the hagane (cutting layer core) with the iron jigane (cladding) folded around it. These knives are NOT stainless, and extra care should be taken to keep them dry when not in use. The blade will develop a dark patina with use, and any orange rust needs be removed with a light abrasive. Camellia oil is recommended on the blade in between uses.
Tsukasa Hinoura is a third generation knife maker in Sanjo, Niigata, Japan. Hinoura-San uses no modern machinery in the production of his knives, and he does all the finish grinding and sharpening himself. From the forging of the jigane cladding, the warikomi forge lamination of the steel core and cladding, the water quench heat treatment to the final whetstone finish and all steps in between, traditional techniques are methodically employed. Hinoura-San is known for his examination of traditional Japanese blacksmithing with modern metallurgical microscopy, on both his own work and the work of other Japanese blacksmiths. All of his research supported the functional importance of traditional techniques that had been started to be viewed as antiquated or unnecessary with modern steels and the results in Hinoura-san's steel quality are superb.
Hinoura-san was a student of the immensely skilled Kosuke Iwasaki who is responsible for Sanjo blacksmithing enjoying the high level of skill it does today.
Tsukasa Hinoura's output is very limited due to the high degree of labor in each knife made, we are very happy to get them whenever they are available.
| | |
| --- | --- |
| Steel Type | Swedish Carbon Steel |
| Handle Material | Ho Wood & Buffalo Horn Ferrule |
| Weight | 150grams |
| Height at Heel | 49mm |
| Overall Length | 310mm |
| Cutting Edge Length | 160mm |
| Handle Length | 127mm |
| Thickness | 3.96mm |
About Bernal Cutlery
We are a full-service cutlery shop offering sharpening services, Japanese and Western culinary knives, vintage knives, outdoor, pocket and craft knives, cooking tools and accessories. We also offer knife skills and sharpening classes, and more.
We are proud to serve kitchen professionals, knife enthusiasts and home cooks alike. Located in the Mission District of San Francisco, California.