Last ordering day for Dec 25th arrival is Friday Dec 15th. Orders placed after this day may not arrive in time (per USPS). We are unable to offer expedited shipping.
Questions about Sharpening Services? Click here.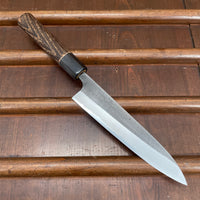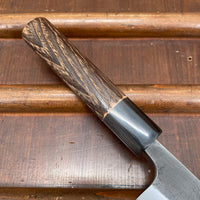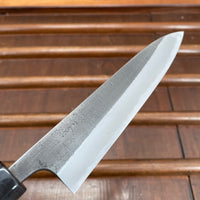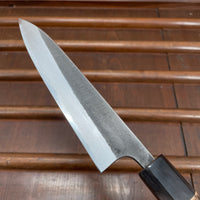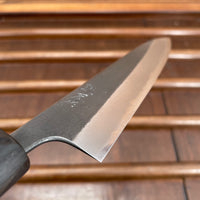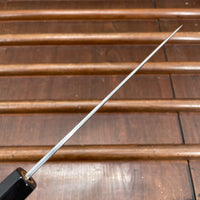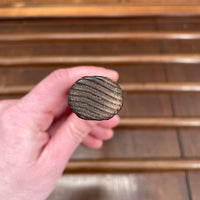 Wakui 150mm Petty Stainless Clad Aogami 2 Nashiji Warikomi Chestnut
Regular Price

$268.00

Sale Price

$268.00

Regular Price

Unit Price

/

per
Wakui-San has transformed his family pry bar forging business into our favorite new Sanjo knifemaking shops.
Wakui-san began his journey into knifemaking working long hours as an apprentice at Yoshikane Cutlery in Sanjo, Japan. Wakui-san forges, heat treats and grinds all his knives in his small Sanjo workshop. We first carried his knives in 2015 and were immediately impressed. His hard work shows in the quality of his smithing and excellent grinding work. We are really proud to offer his knives!
Wakui knives are characterized by a solid middle-weight yet robust Sanjo feel -- very thin behind the edges, thicker at the spine, and amazingly easy to sharpen with clean grinds easy for follow up thinning.
Brand:
Wakui
Producing Area:
Sanjo, Japan
Profile:
Petty
Size:
150mm
Steel Type:
Stainless Clad Aogami 2
Handle: Chestnut Octagonal Water Buffalo
Total Length:
283mm
Edge Length: 155mm
Handle to Tip Length: 168mm
Blade Height: 34mm
Thickness:
2.7mm
Handle Length: 115mm
Weight:
87g
Hand Orientation: Ambidextrous
Sharpener:
Saya:
About Bernal Cutlery
We are a full-service cutlery shop offering sharpening services, Japanese and Western culinary knives, vintage knives, outdoor, pocket and craft knives, cooking tools and accessories. We also offer knife skills and sharpening classes, and more.
We are proud to serve kitchen professionals, knife enthusiasts and home cooks alike. Located in the Mission District of San Francisco, California.