Last ordering day for Dec 25th arrival is Friday Dec 15th. Orders placed after this day may not arrive in time (per USPS). We are unable to offer expedited shipping.
Questions about Sharpening Services? Click here.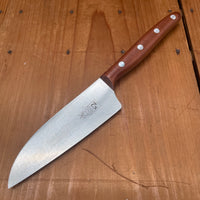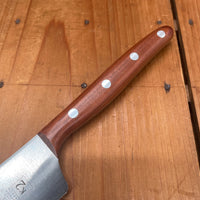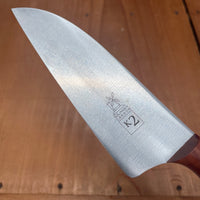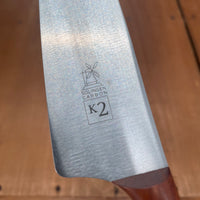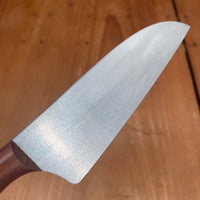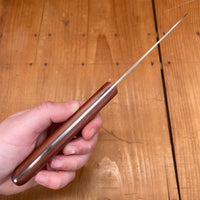 Windmühlenmesser K2 4" Petty Carbon Plum
Regular Price

$114.00

Sale Price

$114.00

Regular Price

Unit Price

/

per
The K2 is an indispensable, wide petty knife. The Windmühlenmesser 'K' series knives are inspired by classic Japanese double bevel designs. They have thin geometry and are easy to sharpen, making them a shop favorite. The blades feature a 'blue' glaze, a shiny final polish from natural stone powder. The ergonomic handles are hand polished and shaped.
These are made with a European carbon steel with at least 1% carbon steel with the addition of vanadium. It is similar to Japanese aogami 2 steel (but with vanadium), which gives it excellent edge life and toughness. Toughness aside, they are ground thin for smooth cutting and will not tolerate misuse. Twisting on the cutting board or cutting hard items like bones or frozen food is not recommended. No Dishwasher use. 
Carbon steel requires care to keep from rusting; it should be dried immediately after use and never left soaking or wet. Carbon steel gets sharper and holds its edge longer than stainless.
Robert Herder Windmühlenmesser knives are made in Solingen, Germany, and still utilize old hand-work techniques. Their fine, hand-ground blades are extremely light and ground thin- they offer a great cutting feel that is not possible with chunky, mechanized-ground blades. Paired with a slight convexity, it makes for reduced friction and sticking during cutting.
Windmühlenmesser has worked hard to establish an extensive apprenticeship program at their workshop. There, craftspeople work to preserve old techniques that have nearly disappeared from Solingen.
Brand: Robert Herder - Windmühlenmesser
Producing Area: Solingen, Germany
Profile: Petty/Utility
Size: 4"
Steel Type: Carbon Steel
Handle: Plum Wood
Total Length: 9"
Blade Height: 1 1/4"
Edge Length: 4"
Weight: 1.9 oz
Hand Orientation: Ambidextrous
HRC: 60-61.5

About Bernal Cutlery
We are a full-service cutlery shop offering sharpening services, Japanese and Western culinary knives, vintage knives, outdoor, pocket and craft knives, cooking tools and accessories. We also offer knife skills and sharpening classes, and more.
We are proud to serve kitchen professionals, knife enthusiasts and home cooks alike. Located in the Mission District of San Francisco, California.