Last ordering day for Dec 25th arrival is Friday Dec 15th. Orders placed after this day may not arrive in time (per USPS). We are unable to offer expedited shipping.
Questions about Sharpening Services? Click here.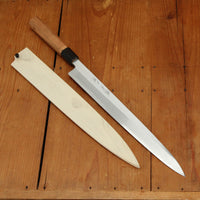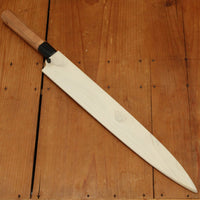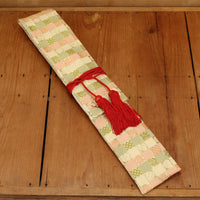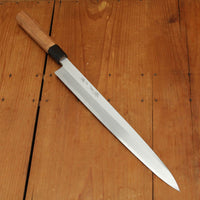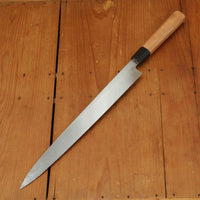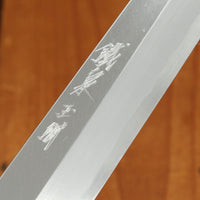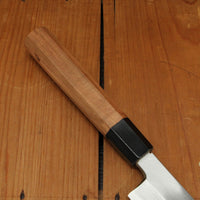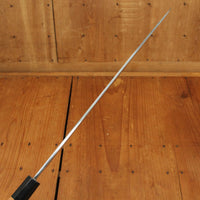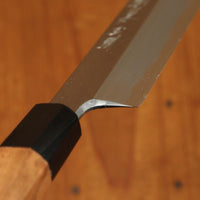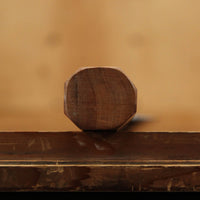 Tanabe Tatara 315mm Yanagi Tamahagane Tanaka / Shimizu with Saya
Regular Price

$2,240.00

Sale Price

$2,240.00

Regular Price

Unit Price

per
We are very honored to be able to offer a limited series of knives made with hand made tamahagane steel. Tamahagane is the predecessor of the industrial carbon steels that have become essential for hand made Japanese knives. The trajectory of Japanese blade making technology and approaches to edged tools all draw directly from the unique properties of this steel. Tamahagane steel is easy to forge laminate where hard steel is supported by softer tougher iron or mild steel which has become an integral part of Japanese blade making. Tamahagane can be easily polished at high hardnesses, resulting in the techniques of fine finishing with naturally occurring Japanese stones that still informs Japanese sharpening. Simply put, without tamahagane Japanese smithing and blade making as we know it would not exist.
This knife is hand forged in Sakai by dentoukougeishi blacksmith Yoshikazu Tanaka and hand ground by Masaya Shimizu also in Sakai.
Tatara steel making culture nearly disappeared, but in recent years craftsman determined to pass on the art form to future generations have kept the tradition alive. Tatara steel making began over 1400 years ago in the Izumo district—an area which has been a focal point for Japanese steel making due to the high quality of it's iron sand found in its mountain rivers and rich forestry for fuel. At its peak the area was producing 80% of Japan's steel.
The Tatara method involves first creating a clay furnace with bellows which can only be used once as it is consumed in the continuous application of high heat reaching 2700F. In one operation 13 tons of sand iron and 13 tons of wood charcoal is burned for 3 nights and 3 days under constant supervision and adjustments, during which impurities are removed and the purest form of Kera (lump of steel) is created. The purest and best parts of this Kera is called Tamahagane, and has historically been the material used to make Samurai katanas. In the Meiji period cheaper forms of steel and furnaces began to be imported from the West, and the art of Tatara steelmaking declined, only to eventually disappear altogether at the end of the Taisho period.
After 11 generations of being samurai warriors, the Tabe family began steel making in 1460 after the founder Hikozaemon had a dream where he was told to begin steelmaking and the next day went to the riverbed to collect sand iron. By 1755 the family was named the head ironsmith of the local powerful Matsue-Han (Domain), responsible for meeting the increasing demand for steel production in that time period. Kera (steel clump) made from the Tabe family was displayed in the Chicago and Paris World Expos in the 1800s. The symbolic katana used to protect the emperor was also made from steel produced by the Tabe family in the Taisho era, the highest honor.
In 2016 the 25th generation Tabe Chouemon declared that he would resume the Tatara production,, both for his family's pride but also to help revitalize their local economy. Izumo Taisha, the oldest and arguably the most important Shinto shrine in Japan, provided the starter fire from their sacred fire, and it is being burned continuously at the Tatara manufacturing site to be used at each operation. The Tabe family now conducts 2 Tatara operations a year, creating the ancient tamahagane steel and now combining it with modern design and features.
Blacksmith: Yoshikazu Tanaka
Steel Type: Tamahagane (Carbon Steel)
Handle Material: Ho Wood & Buffalo Horn Ferrule
Weight: 266g
Height at Heel: 37mm
Overall Length: 490mm
Cutting Edge: 322mm
Thickness: 4.67mm