Last ordering day for Dec 25th arrival is Friday Dec 15th. Orders placed after this day may not arrive in time (per USPS). We are unable to offer expedited shipping.
Questions about Sharpening Services? Click here.
Home
|
Unknown Type
|
Makoto Tadokoro Marushin Nakagawa 210mm Petty Ginsanko Teak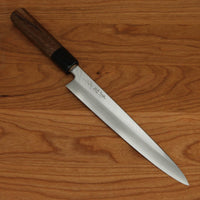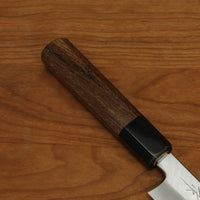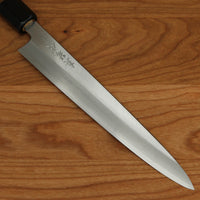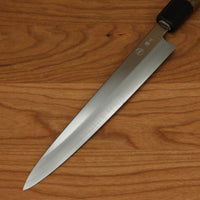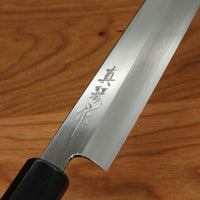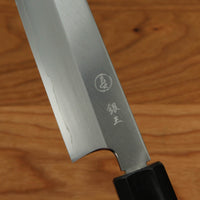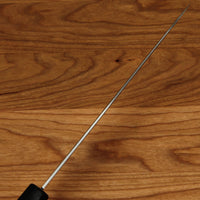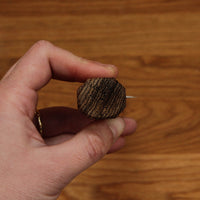 Makoto Tadokoro Marushin Nakagawa 210mm Petty Ginsanko Teak
Regular Price

$368.00

Sale Price

$368.00

Regular Price

Unit Price

/

per
This series is hand ground by Makoto Tadokoro in Tosa Japan and forged by Satoshi Nakagawa in Sakai. Tadokoro-san trained with the famous grinder & sharpener Morihiro in Sakai beginning as a teenager. Tadokoro-san's grinding and finishing skill is exceptional, his work definitely shows he has made the most of his 25 years of experience.
Nakagawa-san's knives are characterized by excellent heat control during forging and a very thorough heat treatment creating knives that have superb edge formation and edge life with good toughness. Nakagawa-san's reputation as one of a few blacksmiths in Sakai to forge Ginsanko and VG10 stainless steels that results in excellent edge life and toughness is well earned, his ginsanko is one of the best we have used and sharpened, really superb edge life, toughness and edge formation.

These have a fine grinding by Tadokoro-san. These have a solid feel with little overall flex but the edge is thin. They will cut very very smoothly but can be easily damaged if any twisting, lateral pressure or scraping is applied. These are best suited for those already using thin edged Japanese knives and maybe not the best first Japanese knife for someone used to more forgiving tougher knives. 
Do not leave wet. Hand wash & dry, no dishwasher. Hardwood-end grain or softwood long grain cutting boards are preferred; avoid bamboo and plastic cutting boards.
Brand: Tadokoro
Smith: Nakagawa
Producing Area: Tosa / Sakai Japan
Steel Type: Stainless
Steel:  Ginsanko
Handle: Teak & Horn
Edge Length: 201mm
Handle to Tip Length: 210mm
Blade Height: 32mm
Thickness: 2.6mm
Handle Length: 123mm
Weight: 112grams
Hand Orientation: Ambidextrous 
About Bernal Cutlery
We are a full-service cutlery shop offering sharpening services, Japanese and Western culinary knives, vintage knives, outdoor, pocket and craft knives, cooking tools and accessories. We also offer knife skills and sharpening classes, and more.
We are proud to serve kitchen professionals, knife enthusiasts and home cooks alike. Located in the Mission District of San Francisco, California.