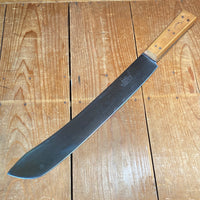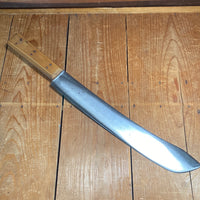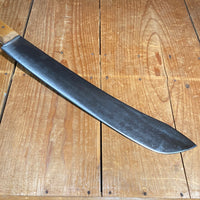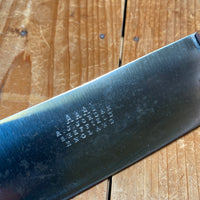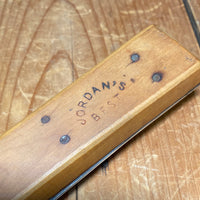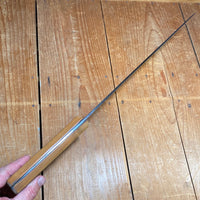 A J Jordan 14" Heavy Bullnose Butcher Double Shear Steel Boxwood is 1871-1926 18.57oz
Regular Price

$520.00

Sale Price

$520.00

Regular Price

Unit Price

/

per
Marked AaA1 A.J. Jordan Sheffield England (1871-1926), made at the East India Works with Sheffield made double shear steel and Persian boxwood.
This knife is an exceptional (and exceptionally large) example of the A J Jordan AAA1 line of knives in exceptionally good condition. In the nearly 18 years of buying vintage knives this is the first example of this size I have come across, and in one of the best conditions for an A J Jordan butcher knife. It has had some light rust removed and a sharpening over what might have been one or two light hand sharpenings, there are no hammer marks to the spine or cracks or weathering to the handle. Its huge size has kept it from getting used down as most that are found are.
This knife has a heavy weight which could be nearly classed as a splitter but I do not believe this was the intended use as the edge is not quite thick enough for that.
Andrew Jackson Jordan was an American from St Louis who set up a knife manufacturing business in Sheffield (the East India works) and imported knives to the USA made at the East India Works and on contract for A J Jordan by other Sheffield manufacturers, this is a knife made at the East India Works with double shear steel and 'seasoned Persian boxwood'
Double shear steel was a 19th and early 20th century steel that was made by case hardening bars of iron in ceramic boxes packed with charcoal, large numbers of these were heated for days on end at high temperatures and the resulting bars were broken up (it would break or shear rather than bend once carbon added hence 'shear' steel) and forged welded into a larger mass. This process was done twice on double shear steel creating a steel with a higher carbon content.
A J Jordan in the marketing style of the times declared his knives made at the East India Works as 'The best in the world' and they are indeed arguably one of the best coming out of Sheffiled in the 19th and early 20th centuries.
14" blade tapering from 3/16" thick, 20" overall and a hefty 18.57" oz
About Bernal Cutlery
We are a full-service cutlery shop offering sharpening services, Japanese and Western culinary knives, vintage knives, outdoor, pocket and craft knives, cooking tools and accessories. We also offer knife skills and sharpening classes, and more.
We are proud to serve kitchen professionals, knife enthusiasts and home cooks alike. Located in the Mission District of San Francisco, California.