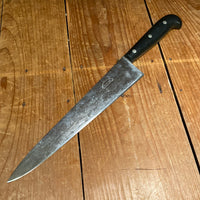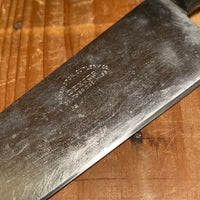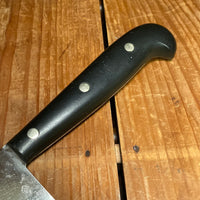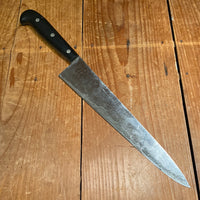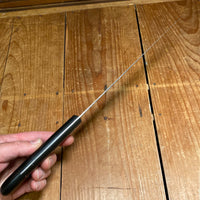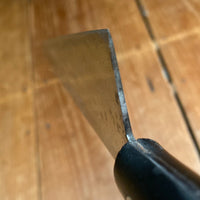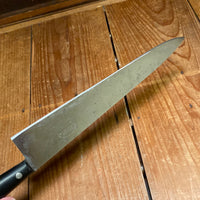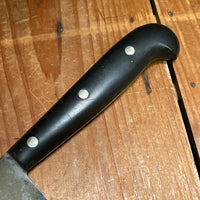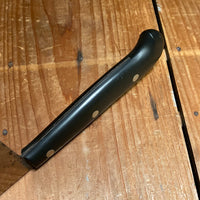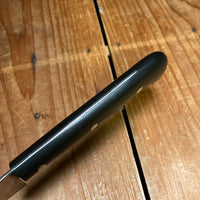 Dexter Harrington Cutlery Co 9.75" Chef Carbon Steel Gutta Percha 1902-1920's
Regular Price

$86.00

Sale Price

$86.00

Regular Price

Unit Price

/

per
A great example of a late 19th / early 20th century Harrington Cutlery knife with the pre-WW2 markings and the old style gutta percha hard rubber handle.
Blade has been sharpened in a bit, it was likely originally a 10" blade (this predates the Dexter model and length numbers on the handle). It's gutta percha handle is what really sets it as a emblematic of its age.
Gutta percha a crystallized latex made from the latex of the Palaqiuim gutta tree native to the Malay archipelago had been used for centuries for knife handles among other uses was 'discovered' by Europeans in the early 19th century and became very popular as a moldable durable material. It revolutionized communications in being the first material to successfully insulate underwater telegraph cables in the 1850's. It's properties as a electrical insulating material led to over harvesting.
Harrington Cutlery Co established by Henry Harrington in 1818 is one of USA's oldest cutlery companies. He added the name Dexter after his son Dexter Harrington who took over in 1861.
9 5/8" edge, just under 1 3/4" wide at heel 5 oz
About Bernal Cutlery
We are a full-service cutlery shop offering sharpening services, Japanese and Western culinary knives, vintage knives, outdoor, pocket and craft knives, cooking tools and accessories. We also offer knife skills and sharpening classes, and more.
We are proud to serve kitchen professionals, knife enthusiasts and home cooks alike. Located in the Mission District of San Francisco, California.