Last ordering day for Dec 25th arrival is Friday Dec 15th. Orders placed after this day may not arrive in time (per USPS). We are unable to offer expedited shipping.
Questions about Sharpening Services? Click here.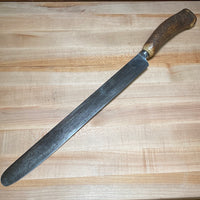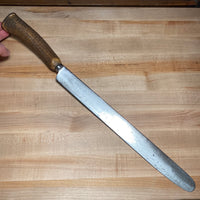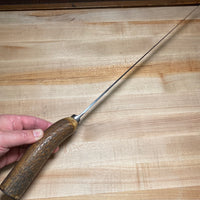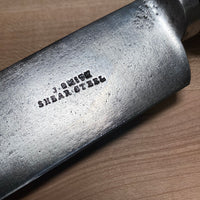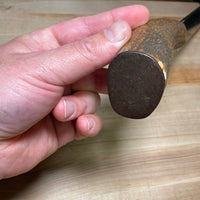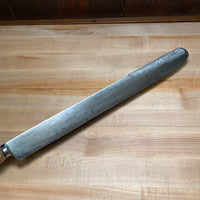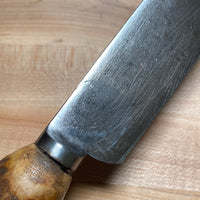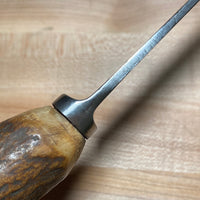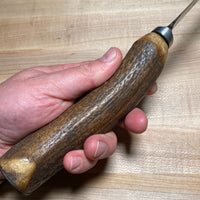 J Smith 14" English Roast Beef Knife Shear Steel & Stag 19th C.
Regular Price

$280.00

Sale Price

$280.00

Regular Price

Unit Price

/

per
Antique J Smith 14" English roast beef carving knife with shear steel blade and stag handle with iron butt cap.
This style of knife was made for carving the old style English roast beef that was cooked on a spit to the side of a large fire using the radient heat of the fire to cook the roast. This was not a small home meal, and would have a dedicated carver for the large roast, a knife of this size would be required to handle it. Breeding steer for beef originates in England and the history of roast beef is tied up into tons of intersecting bits of English history besides animal husbandry.
The knife style and construction are quintessentially English as is the marking style on the blade, the markings provide little information however. There are several possibilities to who exactly J Smith was ranging from early to late 19th C. but the fact that there is no place name associated suggests Sheffield manufacture for the English market and NOT for export to the USA. Roughly half of Sheffield exports went to the USA in the 19th century, Sheffield was more highly regarded in the US than in England and it's 19th C colonies so for many knives without Sheffield (or England post 1891) this knife is not an export.
Another clue lies in the 'puddled' forge weld on the blade near the bolster, this welding of steel to iron suggests early to mid 19th century manufacture. Shear steel is an old type of steel that originated in the middle ages and was replaced by steel made in the Bessemer process. Shear steel was made by packing thin bars of iron in a ceramic container with charcoal and heating it for a long period of time bringing carbon into the iron.
Blade is 14" and 1 5/16" wide on average with a sturdy 5 3/4" stag handle.
About Bernal Cutlery
We are a full-service cutlery shop offering sharpening services, Japanese and Western culinary knives, vintage knives, outdoor, pocket and craft knives, cooking tools and accessories. We also offer knife skills and sharpening classes, and more.
We are proud to serve kitchen professionals, knife enthusiasts and home cooks alike. Located in the Mission District of San Francisco, California.